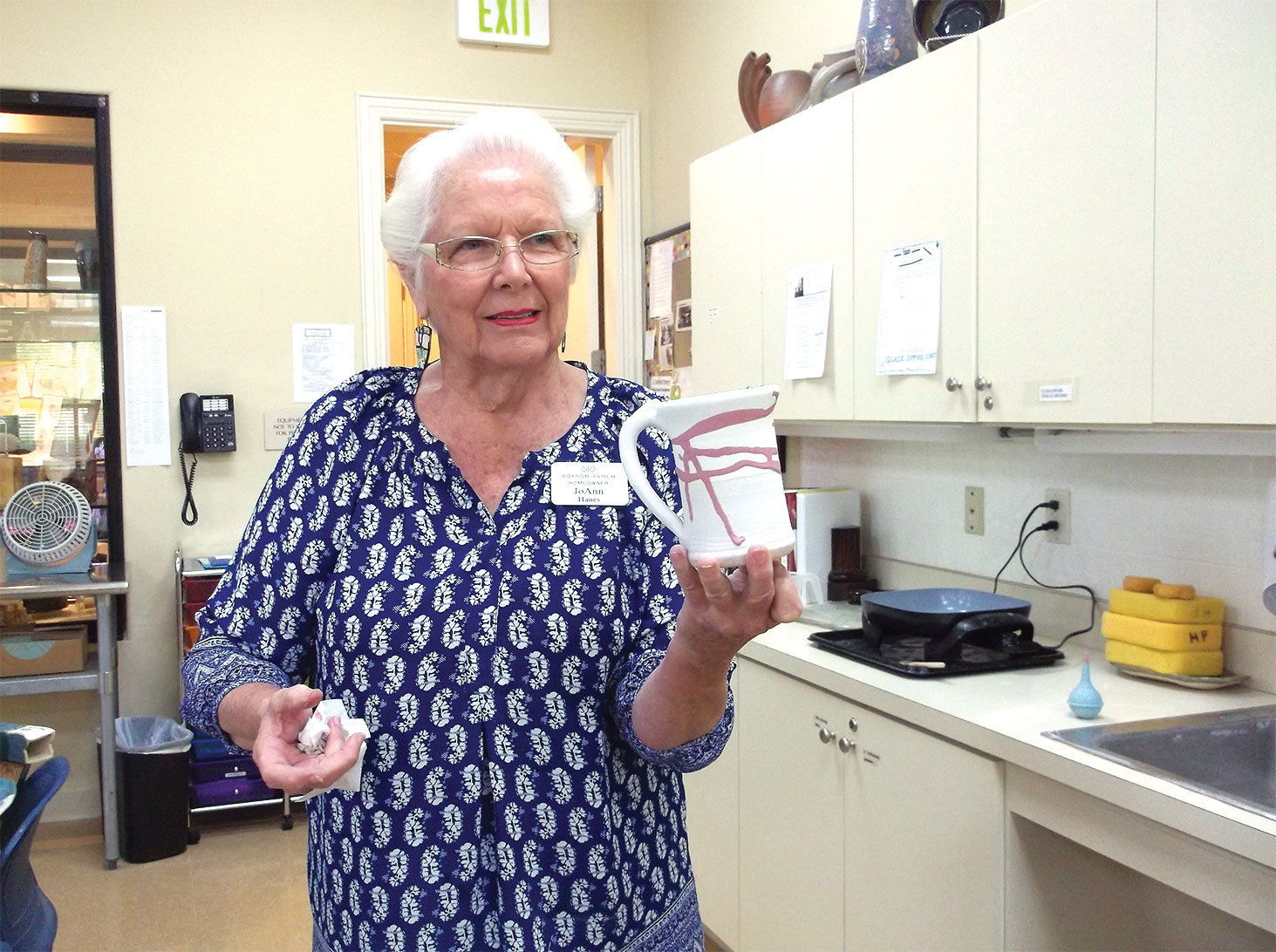 Carolyn Detjen
Happy Potters are not referring to ice cream cones! No! DIPPING was the workshop given in early May by our very own Jo Ann Hanes. Jo Ann had been a professional potter for more than fifteen years before moving to Robson Ranch, but it was in the early 1960s that she discovered her love for the art. She and her kiln started out in Bartonville, Texas and then moved to the Lake. Now that she is retired, the kiln resides at the Dallas Craft Guild.
Jo Ann is like a book of information that has been opened when she teaches. She knows most of the minerals, oxides and chemicals that make up the glazes that we use when we apply color to our stoneware clay pottery. That knowledge combined with knowing the procedures for application to clay, made for an exciting and profitable day for the naïve potters just learning the art. You don't just casually dip a pot into a bucket of glaze. No, that glaze has to have been sieved, stirred up well and to just the right consistency. Jo Ann is a teacher that cares. She and Dawn Schiegg worked the day before the class on all of the buckets of glaze to assure that the students would have excellent materials and tools to learn the method of dipping accurately.
Dipping uses the buddy system so that timing and preparation make for a safe environment. In our workshop we were taught how to use tongs or hands to hold the article being dipped, overlapping, half and half, pouring, brushing to touch up or accent and squirting glaze from a rubber syringe. It takes a special flick of the wrist to apply magical streams and explosive spurts of glaze that change Plain Jane pots into Robust Rita prizewinners. Squeezing a rubber bulb has never been so astonishing!
All of the information taught was from Jo Ann's years of experience with clay and glaze. We are so blessed to have in our club various expert authorities like Jo Ann. Knowledge and abilities are joyfully shared to guide us so that the art of pottery carries on for you to enjoy. Thank you, Jo Ann Hanes and God bless you. You are a woman to behold!
Quotes from Jo Ann Hanes: "Stir it, wet it, dip it"; "You can let the lead first squirt set the pattern for the design"; "Sometimes your best designs come out of a mistake".