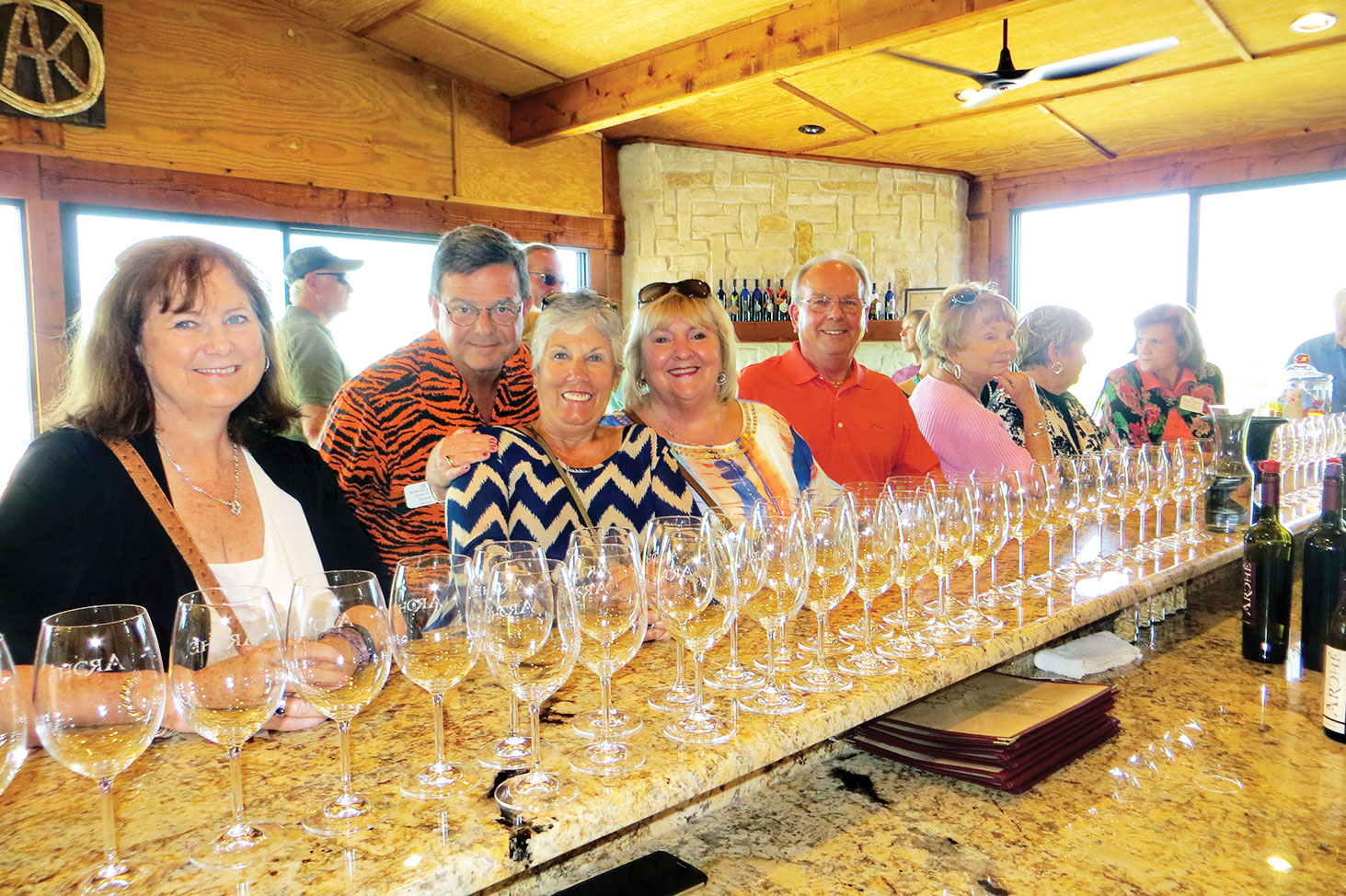 Vicki Baker
An historic western town, Texas wines and homemade artisan breads go together perfectly for an ideal evening out. The Road Runners traveled northwest from Denton on April 28 for a sampling of these "Texas treasures." Saint Jo, established in 1856 along the historic Chisolm Trail, has vestiges of the Old West everywhere we looked. The town was named for Joe Howell who laid out the town site and was opposed to the sale of liquor in town, thus giving both himself and the town the name "Saint Jo."
Well known cowgirl artist Donna Howell Sickles makes Saint Jo her home. A visit to her gallery showcased the smiling, joyous cowgirl at the heart of her creations, each figure full of life with hat in hand riding horses or on the back of bulls. Then there's the Stonewall Saloon named after General Stonewall Jackson and built in 1873 to accommodate thirsty trail drovers moving cattle along the Chisolm Trail. It opened as a museum in 1958 and now showcases the town's colorful past.
Vineyards nestle among the rolling hills in what is known as the Red River Valley, the terrain resembling the Texas Hill Country with gentle slopes and pastoral views. We arrived in late afternoon at Arche, the smallest commercial winery in Texas. Family owned and operated, the vineyards started in 1999. Remarkably all of Arche's wines are 100% Texas with the grapes grown on the estate and from other select Texas vineyards.
Second stop was Blue Ostrich Winery. For many years this was one of the foremost ostrich breeding and ranching facilities in the southwest. But what do you do with an ostrich farm when most the ostriches are gone? Start a winery, of course! Opening in 2011 it has made headlines with award winning wines. The wines are currently crafted from two-thirds Texas fruit with the remainder coming from various other states. To complement our dinner yet to come at Ancient Oven, several bottles of wine were purchased from both wineries.
The centerpiece of Ancient Oven is the wood-fired oven itself. The oven is surrounded by rock and brick and stands nearly 10 feet fall, eight feet deep and six feet wide. Constructed from fire bricks, the oven heats up to 850 degrees baking the pizzas to a bubbling crisp within minutes.
Our four-course meal started with rustic artisan country bread served with a rich spinach and artichoke dip. Next were "Italian Teardrops" made with olives, cream cheese and spices wrapped in a pasta pastry and seasoned with garlic, butter and herbs. For the main course we feasted on thin crusted Neapolitan-style pizzas topped with a variety of ingredients. The meal was finito with a decadent dark chocolate hazelnut dessert pizza made with Nutella. Magnifico!
Scenic views of the Red River Valley, an historic town along the old Chisolm Trail, extraordinary Texas wines and an Old World hearth baked Italian style dinner, all the elements melded into one unforgettable Road Runners' evening.