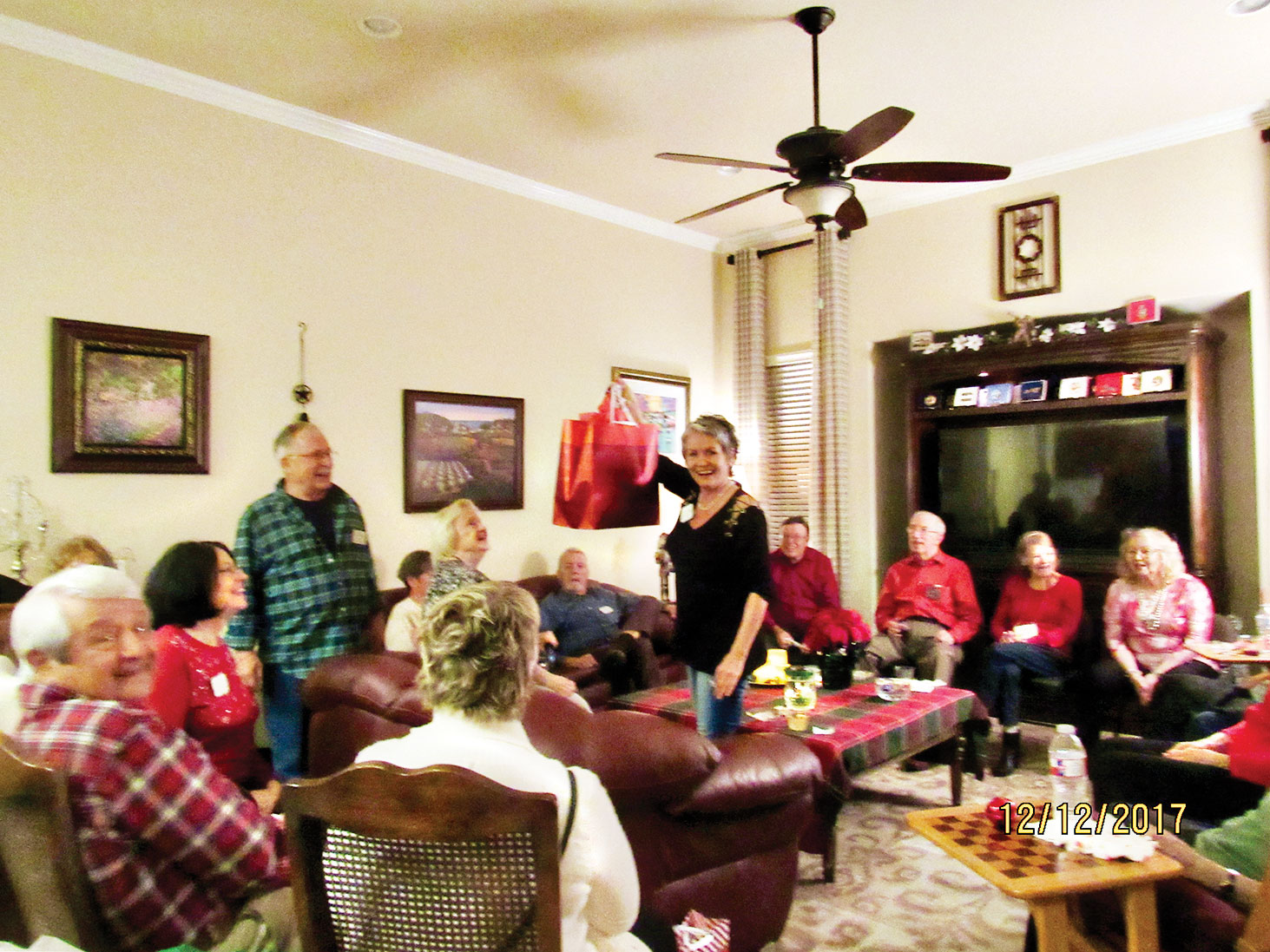 Rupa Mathur
We held our December meeting on Tuesday, December 12, in place of our usual third Thursday of the month. On special occasions, we try to accommodate the dates which are suitable for our host/hostess. On this special occasion, Christmas dinner was held by Lenie and Loren Christensen at their lovely home. They originally come from Maastricht, Netherlands. They prepared beef in red wine sauce and potato salad. The guests brought appetizers and desserts to share, along with their own favorite beverage to drink. We had a lot of fun exchanging Christmas gifts in an orderly way. Each member or couple brought a gift, and if a couple brought only one gift, that couple could pick only one gift. Members/couples were given one numbered slip, and the person who received number one was the first to select an unopened gift. The person who received number two was then able to select an unopened gift or steal the gift that number one had received, in which case number one was able to select another gift. Then number three could go, again selecting an unopened gift or stealing a gift received by number one or two, and so on. A gift could be stolen only twice. This was continued until all gifts had been opened. The gift exchange made the atmosphere comfortable. We relaxed, laughed and had great deal of fun stealing each other's gifts.
Most of the members paid their dues for next year's membership. We also held elections for a new treasurer and sunshine person. Ineke Dabelic from Netherlands agreed to be the treasurer, and Eileen Whitaker agreed to be the sunshine person. We welcomed our newest member, James Gallacher from Scotland. We look forward to the New Year and our future meetings.
The International Club of Robson Ranch provides a forum for residents who were born outside the United States to foreign parents. We have members from all continents, and we share our cultures and experiences in a congenial atmosphere. We also provide support. Spouses and significant others are welcome to attend the gatherings. Yearly dues are $10 per single person or $15 per couple. The club meets once per month for a meal or outing, usually on the third Thursday.
If you are interested in learning more about our club, please contact Marie-Christine Koop at [email protected] or (940) 262-7756.