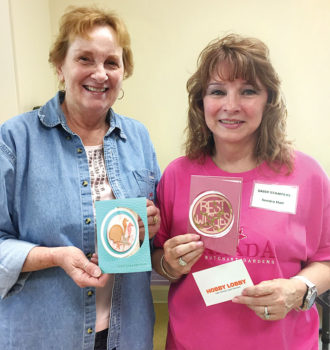 Joyce Martin, Robson Ranch Sassy Stampers
April Bayne was the winner of the monthly drawing for her summer themed card at the May meeting of Sassy Stampers receiving a gift card to a local craft supply retailer. Sondra Hall was chosen as the winner of the Challenge Card using a special folding technique, also winning a gift card to a local craft supply retailer. Congratulations ladies.
Sassy Stampers meet on the third Saturday of the month in the Creative Arts and Technology Center at 10:00 a.m. If you are interested in learning how to create one-of-a-kind, handmade greeting cards, please join us. The club is open to beginners through experienced levels of crafting. Beginner classes are taught separately and in addition to the monthly meeting wo that experienced instructors can guide new members through basic skills and more. Annual dues for the club are only $15/year which includes at least ten greeting cards, a techniques day in late summer. We celebrate our successes with a holiday party.
The club is also active in cooperation with the Support Our Troops organization at the Ranch, supplying multiple handmade cards to be sent to troops deployed throughout the world.
Stop by our window at the CATC to see some of our handiwork.