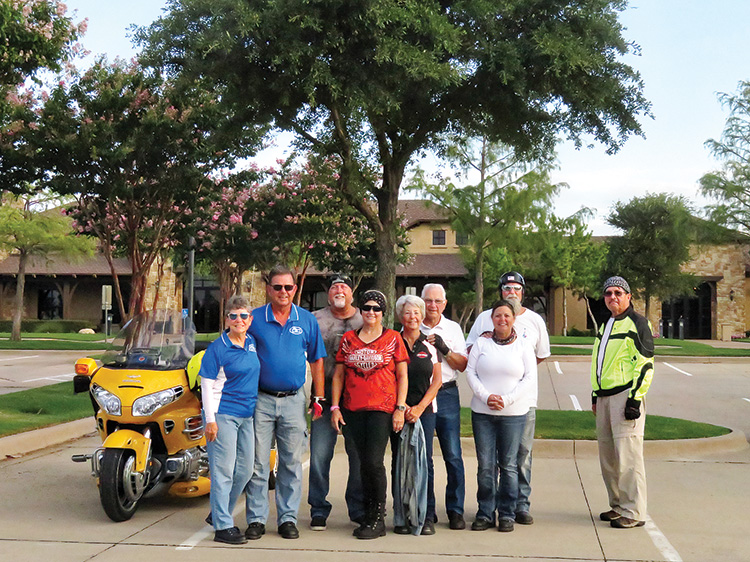 Stan Brein
August is usually the hottest month of the year. We lucked out in June and July with moderate temperatures and a good amount of rain. But, alas, all good things must come to an end! Never fear, though. Once again, the Robson Ranch Motorcycle Club had a full schedule of activities planned and many club members took advantage of them.
The August 1 Dinner Ride was to Hula Hut Little Elm with the Conleys, Barnetts, Bakers, Lozanos, and Sicos in tow. Some "cooler" heads prevailed and a few of the members used four wheeled vehicles! Hula Hut bills itself as providing "Island Time" and great food. It is locally owned and has been serving great Tex-Mex with a Polynesian twist at the Austin location since 1993. Located on beautiful Lake Austin, Joyce and I visited there with friends often when we were in the Capital City. The Little Elm location opened in 2015. The restaurant is decked out with Tiki torches, bamboo walls, grass-thatched bars and thousands of colored lights. Music from traditional Hawaiian to surf rock floats out over the water. Diners enjoy the great lake views at both locations while you choose among the prepared-daily snacks, the enticing specialty drinks, the tempting platters, and much more. They are family, kid, and senior friendly.
The August breakfast ride on the 13th was to Cartwright's Café. The Original Ranch House on the Square in Denton has been a favorite for years. The owners opened the Ranch House in 2011 in what was Downtown Denton's Theater Row through the 1950s. It was succeeded by a Benjamin Franklin Dime Store and then Ruby's Diner for 24 years. The addition of the Café (on the former site of another popular eatery) provides more options for good dining. The Dotsons, Conways, Conleys, Martin Munoz, Jim Sico, and Jim Reddick enjoyed both the ride and their entrees.
On August 15, we held the club's Quarterly Social and Club Meeting where members enjoyed the offerings of the Wildhorse Grill, then adjourned to the clubhouse to review club activities and business. With increasing membership, we have outgrown the Board Room at the Grill and have moved into the restaurant itself.
Upcoming events include the September 10 breakfast ride to Upper Park Café in Aubrey and the September 26 Lunch Ride to Mary's Café in Strawn. October 15 brings a Day Ride (QSR) to Circle N Dairy in Gainesville, and we are planning to attend the Galveston Lone Star Rally October 31–November 3.
It's great to see more members stepping up to plan rides and be Captain and Sweep for the rides. Involvement makes us great!
See you on the road!
Beware of cagers and keep the rubber side down.