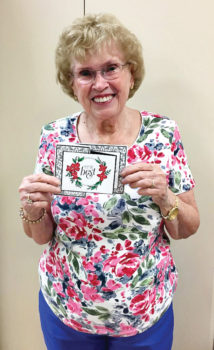 JoAnn Gantos
The Sassy Stampers met on Saturday, August 17, in Room 104 of the Creative Arts & Technology Building at 10:00 a.m. It has been a long, hot summer, but we had a cool time learning the pretty double Z fold card led by project lead Jean Euker. We were able to channel our inner child with colored pencils and markers (using the skills we reviewed at last month's meeting) on this beautiful card. It is always fun getting together, sharing and learning new things. Thanks Jean; the card was so much fun to learn.
Prior to the card making, Diana Krug, our club president, called the meeting to order and also announced the winners for our challenge drawings. Each month we have two challenges that we can participate in. The winner of the challenge card for using techniques reviewed/learned last month was Trudi Searles. She used the shaving cream marbling technique. The winner of the color challenge this month (making a card using primary colors of red, blue, or yellow) was Mary Sullivan. Ladies, both cards were beautiful. These winning cards as well as all the cards entered into the drawing will be displayed in the Sassy Stampers Window display. Stop by and check out the window display!
Our club is a big supporter of the Support Our Troops (SOT) initiative. Last month sample SOT Christmas cards were submitted by club members to be considered for the mass production effort. This month the winning card was announced. It is a beautiful card designed by Diana Krug. On September 30, the club will meet to mass produce this card that will ultimately be mailed to service members. The SOT Silent Auction also receives cards made by our club members as donations. The deadline to submit those cards will be at the October 19 club meeting. All the proceeds from the auction will go towards Support Our Troops.
Our club meetings are held on the third Saturday of every month. Club dues for the year are $15. Throughout the year we will make ten one-of-a-kind handmade cards. Every July meeting, we have a "techniques" day to learn or review techniques to use on cards. To top off the year, we have an end-of-the-year Christmas celebration. We always have a great time together.
If you are interested in joining our club and have additional questions, please contact Diana Krug at 940-262-3184.