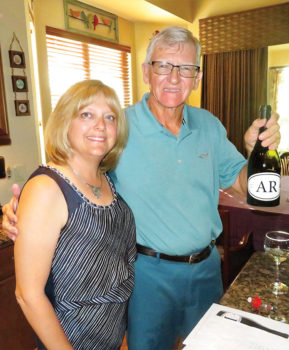 Vicki Baker
The Wine Knots met on Friday, May 18 at Randy and Debbie Johnston's residence. The theme for the night was location wines. You may ask what are location wines? Well, these wines have a simple label with letters for each wine produced representing different regions of the world.
The wines were a brain storm of winemaker Dave Phinney under the Orin Swift brand. He is considered a maverick with his intent to make wines less complicated and remove restrictions from traditional wine circles. He produces many wines from France (F), Oregon (OR), California (CA), Washington (WA), Italy (I), New Zealand (NZ) and Portugal (P). The wines are produced at the Orin Swift cellars in Saint Helena, California.
The group sampled two wines. The first was a French (F) red wine which is a blend of Grenache, Syrah and Bordeaux varietals. The second wine was an Argentinean (AR) red comprised mainly of Malbec with a small percent of Cabernet Sauvignon. The Wine Knots enjoyed both with probably the French getting a little higher grade.
The evening concluded with great food including French onion meatballs, ratatouille with a Texas flair, Mexican queso with chips, pecan cheese ball, shrimp cocktail dip, cheese and crackers and finished off with a great dessert called tres leches cake.