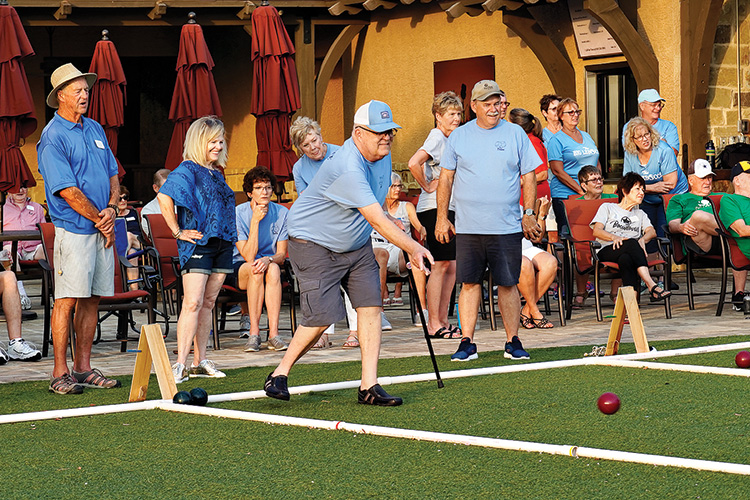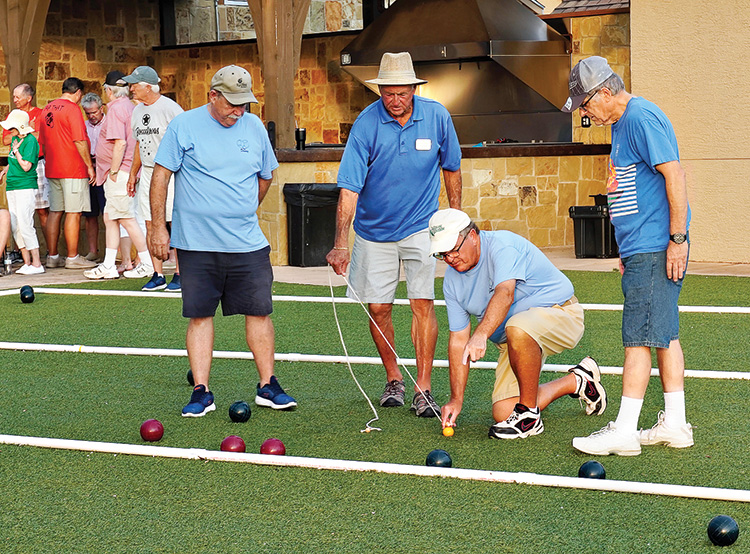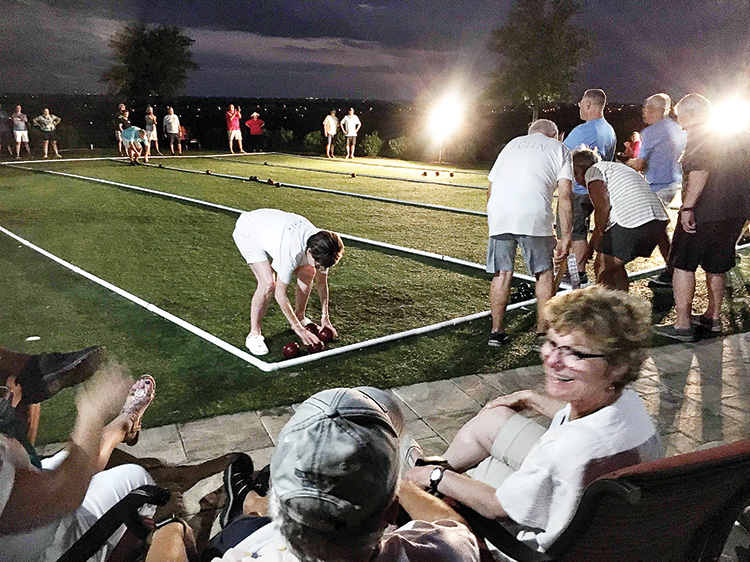 John Humphries
Like the Texas football-based film classic and TV show, the fall 2019 Robson Ranch Bocce League took to the playing surface under the glare of high-powered lights. This was an historic event for the three-year old league, marking the first time ever that matches were played "under the lights." There were no cheerleaders and no marching bands, but the enthusiasm was just as high. Started in 2016, the league has grown to over 700 players. It's added two new divisions and 20 more teams for the fall, bringing the total to 60 teams competing in the league's six divisions. Bocce is now played Tuesdays, Wednesdays, and Thursday evenings! The league has grown to the point where finding time and space for matches has become problematic.
Daytime temperatures of around 105, and a heat index of over 110, put pressure on the league and its players. High heat is considered dangerous for "seasoned adults." To deal with lack of adequate court time and a typical Texas August heat wave, the league purchased three sets of high-intensity portable halogen floodlights. The feature has allowed teams to shift their matches to later start times, if requested. The day's final round of matches began just before sundown, continuing until around 10:00 p.m. Players could enjoy the beautiful Texas sunset in the background, as temperatures cooled considerably.
With no permanent home courts, the league must share the Wildhorse Grill patio space with other events. Rainouts complicate the issue, since there is scant opportunity to re-schedule rained-out matches. Last season, some matches never were played. With no place left to expand, and with no more time available, the lights created the opportunity to expand available court time. The lighting will also come in handy with shorter days in late fall and the end of daylight savings time. We continue to hope that Arizona appreciates our situation and invests in a permanent bocce court facility.
After the first two weeks of matches, both the new and established teams have not yet set any sort of winning or losing patterns. There are no games scheduled for the entire Labor Day week, as other events are scheduled for the Grill patio. Even if you are not a league member, please drop by, have a beer, and watch the fun with us!