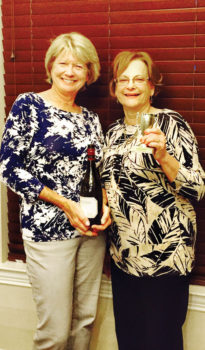 Janie Farnsworth
On May 17 the Tuesday Tasters were hosted by John and Paula Saunders on Gallery. The theme was bring your favorite red. We had three different reds that were tasted that night. Second and third place winners were a DiVinci Cianti brought by Tom and Vickie Moses and a Manos Negras Pinot Noir contributed by Mike and Sue Miloser.
DaVinci Chianti is a well-balanced wine of medium weight with jammy flavors of ripe plums, cherries and red fruit. It has a deep crimson color and is a lively wine with a soft mineral finish and round tannins that linger in long, peppery finish. This wine pairs perfectly with all starters, pastas and meat dishes and is best when served slightly below room temperature (64°F).
The Manos Negras Pinot Noir is from Argentina. I had never had a Pinot from Argentina before. It was a unique tasting Pinot Noir. The name tells you what you need to know about the iron-rich soils, but not about the corresponding structure of the wine. Low yields give way for dense and concentrated fruit; this wine is characterized by muscular tannins, a touch of reduction and rich, flavorsome fruit. It is recommended with spicy foods.
The winning wine, Meiomi Pinot Noir, was brought by Cindy Stampf and Janie Farnsworth. It is one of my favorite medium-priced Pinot Noirs. Oregon's Willamette Valley is probably the best area for Pinots; however, this California Pinot is a great find. A rich garnet color with a ruby edge, the wine opens to reveal lifted fruit aromas of bright strawberry and jammy fruit, mocha and vanilla, along with toasty oak notes. Expressive boysenberry, blackberry, dark cherry, juicy strawberry and toasty mocha flavors lend complexity and depth on the palate. The well-integrated oak provides structure and depth seldom seen in Pinot Noir.