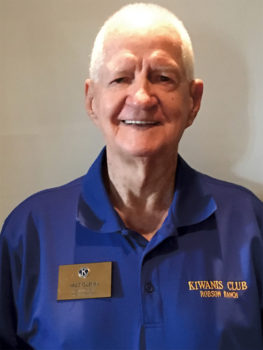 Jan Norton
This is the second in a series of interviews (actually, Milt wrote this one himself!) with Robson Ranch Kiwanis members. Read to learn more about us and then join us so that we can continue to grow and serve those in need.
Meet Milt Glenn.
Unfortunately, I became a Kiwanian after retirement. My corporate life of sales management involved considerable travel. I had a true friend, a Kiwanian, who invited me to join. After a meeting or two, I learned enough to join and never a single regret. What more can anyone do to improve the world one child and one community at a time? There are always children in need in so many ways.
I have been a Kiwanian since 1997, served as Club President twice, served on many committee projects including Board member, elected Lt. Gov in a division and now with my third Kiwanis Club as a happy member of Kiwanis Club of Robson Ranch (KCRR).
KCRR members provide hundreds of volunteer hours each year to many projects raising $15-$20,000, which is given to many charitable organizations including several $1,000 scholarships to deserving students. All donations are for children and needy individuals in our surrounding communities, mainly in Denton county.
Some of our fundraising, hands-on projects include Texas Motor Speedway, distributing Source Books to RR, Silent Auction, Bingo, July 4 hot dog sales, RR Garage Sale, and various smaller ones.
Recipients of our donations include Cumberland Presbyterian Children's Home, Rainbow Room, Salvation Army, Interfaith Ministries, Krum High School Key Club, Science Camp, Kiwanis Children's Fund, Ramp Building, K-Kids, and the Denton Independent School District  tutoring and mentoring.
I've told many Kiwanians and potential members that KCRR is the best organized Kiwanis Club in all of Kiwanis. We listen to ideas and suggestions from whomever to improve and honor Kiwanis. So, anyone interested in KCRR, come visit with us. We meet on the first and third Fridays of each month at 9 a.m. (with coffee at 8:30 a.m.) in the Bandera Room at the RR Clubhouse.