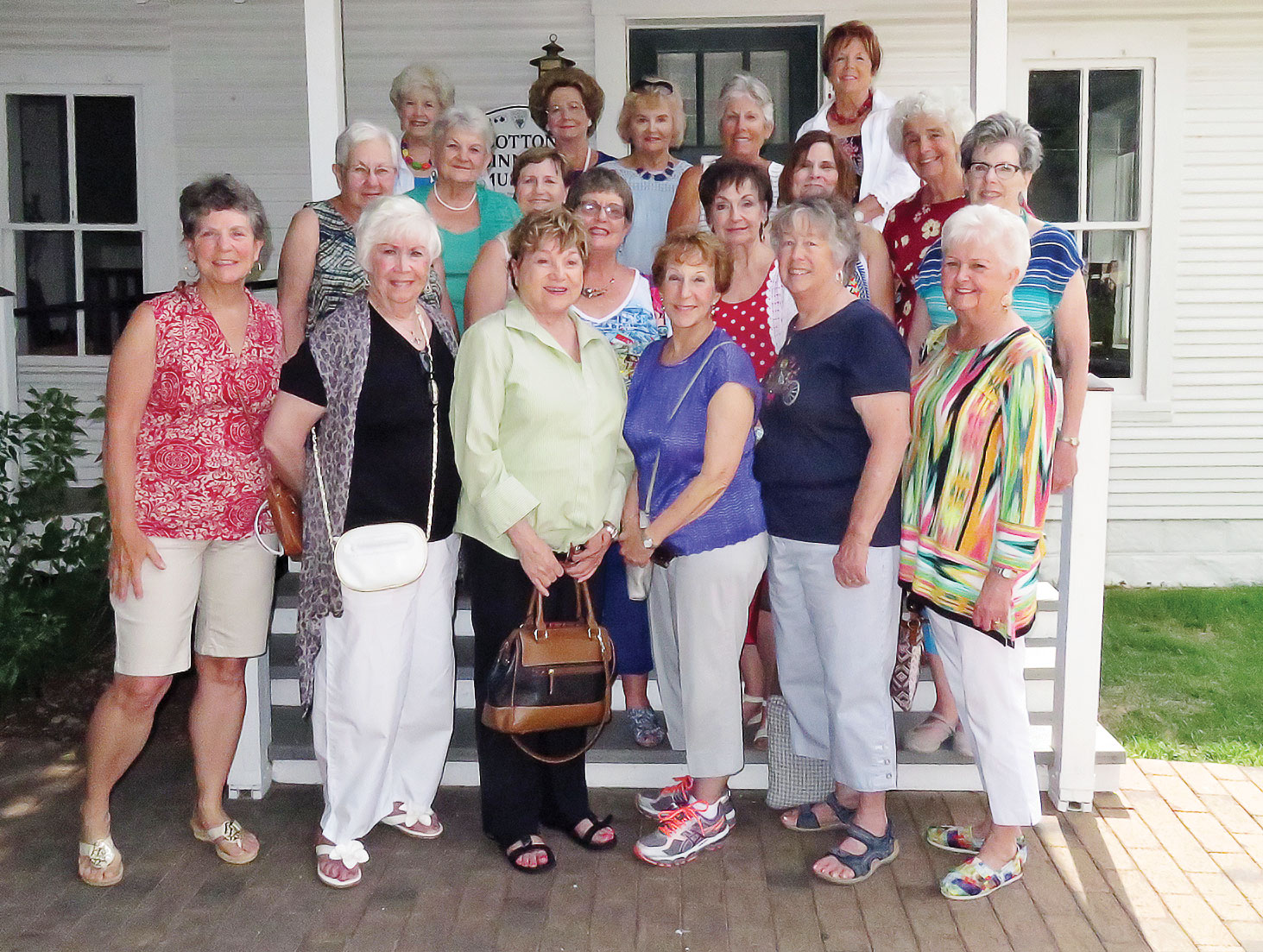 Vicki Baker
Grapevine's story began in 1843 when General Sam Houston and the Republic of Texas met with American Indian nations and negotiated a treaty of peace and friendship at Grape Vine Springs. The first settlers soon arrived by crossing the prairie covered with abundant wild mustang grapes, giving the area its name – Grapevine. Today, the city is a thriving center of culture and commerce.
One of the city's most endearing qualities is its recognition and reverence for its past. The Grapevine Historical Museum invited the Rockin' Red Ranchers to take a closer look into the city's past, present, and future in the museum housed in the 1940s Grapevine Ice Company building.
During our docent-led visit we learned the history of Grapevine through photographs and artifacts related to life on the prairie in the city's early days. We toured the "Settlement to City" plaza, home to a cotton gin, the original Hudgin's family home, and a two-room schoolhouse. These pioneer buildings gave us insight into what life was like over 100 years ago for "urban" Texans in a small township. We came away with new knowledge about the city's history and a greater appreciation for the spirit of its people.
We then embarked on the establishment of another "pioneer" – Frank X. Tolbert, "Grandfather of Chili" and founder of the Terlingua Championship Chili Cookoff. We enjoyed lunch at Tolbert's Restaurant and Chili Parlor located in an historic 1911 building. The tradition continued as we feasted on the signature Bowl of Red, using the same recipe developed by Frank.
No meal is ever complete without dessert. We stepped into a charming bakeshop, Judy Pies, to sample a little slice of heaven. All the baked goods are made from scratch daily in their on-site kitchen where pre-made ingredients and preservatives are never used. We found a wide selection of pies and sampled just a few – apple, strawberry-rhubarb, buttermilk, pecan and peach.
Our sweet tooth not yet satisfied, we headed to Chocolate Moonshine specializing in artisan confections made with cream and butter from local creameries, imported Belgian chocolates, Tahitian and Madagascar vanillas, fresh-pressed fruits and pure cane sugar which are then hand-painted with French cocoa butters. Not only are the chocolates a work of art, they also tasted heavenly. We taste tested an unlimited variety of chocolate bars and fudge in traditional and unique flavors, many infused with quality liqueurs.
A final stop was made at Grapevine's indoor farmer's market, a colorful feast for the eyes with peaches, plums, blueberries, strawberries, peppers, melons, green beans and more lined up everywhere. We found not only fresh organic produce, but candies, salsas, grass-fed meat, backyard chicken eggs, handmade breads, locally made tamales, local raw honey and a whole lot more not found in the typical grocery store.
At day's end we were exhausted, yet ecstatic over our remarkable finds located right next door in Grapevine where small western-town America meets modern world luxury. The perfect friends' get-away spot…the perfect Rockin' Red Ranchers' spot.