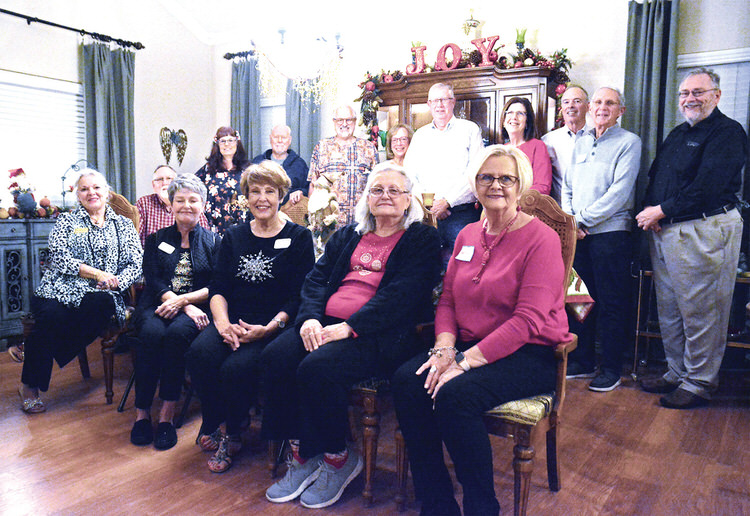 As we headed into the end of 2021, the Robson Rovers RV Club gathered for their last meeting of the year, followed by a Christmas dinner and gift exchange. Sixteen members of the Robson Rovers RV Club met at the home of Ron and Nita Ice on Monday, Dec. 13. The evening began with a quick meeting and a welcome by Ray Davis, the club secretary. Our host Ron Ice prayed a blessing over the group, and we enjoyed a dinner catered from Olive Garden.
After a wonderful dinner, we participated in a gift exchange. Gifts were separated into those intended for men or women, and the club members chose an unmarked gift ordered by numbers drawn from a hat. For those choosing, they could grab a new, unopened gift from the remaining gifts or steal a gift from another previously opened gift. There was a limited amount of stealing, until a Pier 1 fondu set was unwrapped. Ultimately, this fondu set was stolen twice, thus freezing that gift. There were lots of wonderful gifts, with bottles of wine topping the list, and other RV-oriented knickknacks a close second.
The night was capped off with our annual Jackass award. This award, which is a trophy adorned with a bucking donkey, is presented to a club member who has experienced an exceedingly embarrassing moment with their RV during the previous year. This incident is generally self-inflicted, and the award winner is requested to display the trophy on the dashboard of their coach at all RV campouts for the next year. This year, the award went to a new club member, Stephen Pinn. Although he described a summer trip which was full of breakdown moments, ultimately, he was awarded the trophy for blindly following his GPS into a place where no RV should ever travel.
A good time was had by all. The next RV club meeting will be on Monday, Jan. 10. Details will be posted in GroupWorks. We pray that everyone has a wonderful Christmas holiday season and that everyone stays healthy. See you all next year!