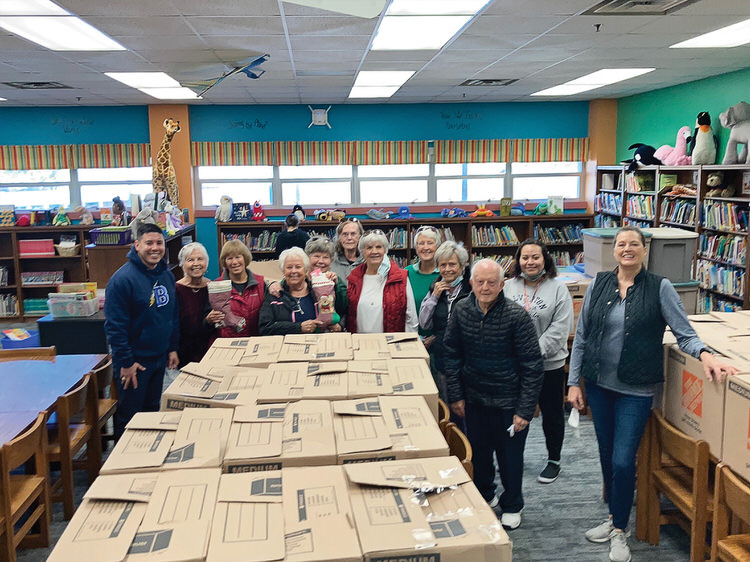 Patti Ewoldt
The spirit of giving in the Robson Ranch community was evident at the After Schooler's annual food drive, and be assured that 35 families had a better holiday because of the generosity of Robson Ranch residents. Each family received a huge box of food and a special handmade stocking filled with gifts and treats for the children in the families. The money donated allowed the purchase of items needed to fill the stockings and supplement the boxes with special food items.
The fall garage sale also helped finance recognition and appreciation for the staff of LaGrone Academy and Borman Elementary with pizza parties before the holiday. Finally, all teachers at both schools received a special Christmas card with a handwritten message and cash gift to make their holiday brighter.
A special thank you to the Pickleball Club for helping the After Schoolers kick off the food drive, the Material Girls for the wonderful stockings, and, finally, the extra volunteers who loaded and delivered all the food to the schools.
This new year, please consider joining the After Schoolers group in their endeavors to recognize educators with support and recognition for all they do for children. The group meets the second Friday of each month, September through June, at 10:30 a.m. in the clubhouse. Special field trips are also planned for the membership. Soon, a trip to the Holocaust and Human Rights Museum in Dallas will be announced. Please join us this new year.
Be sure to add to your calendar that the Spring Garage Sale is April 23!