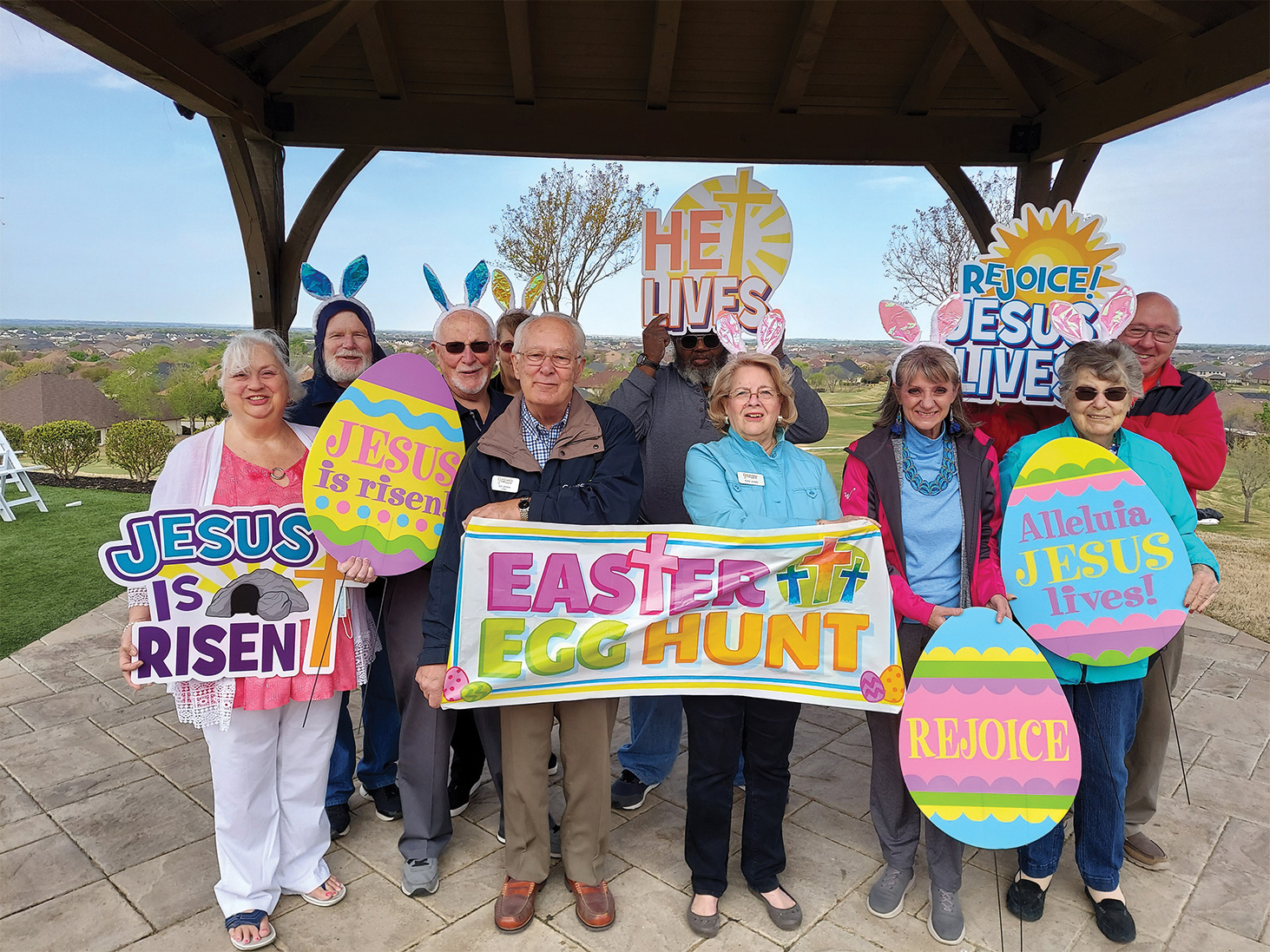 Cynthia Drury
The morning was cool and crisp on the Wildhorse Grill Patio as members of the Fellowship At The Ranch Church set up for their inaugural Easter Egg Hunt. Church members had donated candy to fill plastic eggs and others filled the eggs at an egg stuffing party. On the morning of April 3, another group of Church volunteers set up and covered the grassy hill below the patio with the eggs. When they were done the green grass was filled with bright colored plastic eggs.
At the appointed hour, over 150 children, parents, grandparents, and great-grandparents filled the patio area. The excitement built as the children looked over the edge of the patio and saw the eggs in the grass. They were bouncing and showing their families where all the eggs were waiting for them to pick up.
The Easter egg hunt was started with a Prayer by Pastor Ed Jones. The children were lined up by age groups and walked down the hill. At the bottom with bags and baskets ready to fill, the countdown started—five, four, three, two, one—and the egg hunt began! The older children ran up the hill gathering eggs as they went, much like a vacuum cleaner, getting every egg in their path. The younger children, some with parents helping, picked up their eggs a little slower. One little girl, about three years old, would run to pick up an egg, take it back to her Mom and then run to find another. When the children reached the top of the hill, they had bags/baskets full of eggs, smiles on their faces, and showed their accomplishment to anyone who would look. "Thank you," "That was fun," "Did you see me," and "Look at all the eggs I have;" echoed through the patio.
The Easter Egg Hunt is just one of the many activities and events hosted by Fellowship At The Ranch Church. You are invited to visit Fellowship At The Ranch Church Worship at the Robson Ranch Clubhouse on Sundays at 10 a.m. for our meet & greet following Worship Service at 10:30 a.m. For more information about the Church, please visit our website at www.FellowshipAtTheRanchChurch.com.
"One of the Friendliest Churches right in your own backyard."