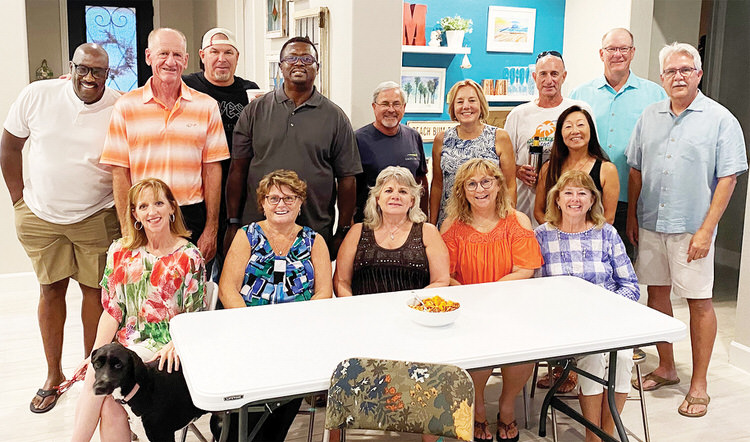 Dave Parker
(Warning: If you are hungry, do not read this article.) The hosts for the Robson Ranch BBQ Pitmasters—Smokers & Grillers were John and Marlene McNemar. For the main BBQ, John rolled out two pork shoulders. One shoulder was marinated overnight, and both were smoked with a hickory blend wood. The second had a Traeger rub. One was smoked for 9 hours and the second for 12 hours. The pork was smoked to perfection! John also smoked a homemade Chex Mex appetizer for over two hours.
Paul Dorwaldt smoked mesquite parmesan potatoes with mesquite wood. Paul used Bill's Season as a special rub. Bob Riley brought smoked, bacon-wrapped pickles. Bob used Meat Church seasoning and smoked the pickles for over an hour on a Green Egg.
Cory Raynor brought southern-style green beans with bacon.
Larry Lewis (PhD in Texas BBQ) fired up his famous BBQ beans with brisket, honey chipotle, and bacon. The beans were smoked and could win BBQ contests. And not to stop there, Larry also cooked up some homemade cornbread stuffing! The homemade cornbread stuffing was his special recipe and was outstanding.
Dessert topped off the meal with smoked chocolate bread pudding with smoked vanilla ice cream. The ice cream was smoked with half applewood and half pecan wood. Two loaves of brioche bread were cubed and also smoked. Ghirardelli chocolate and vanilla from Mexico, along with other special ingredients, were made into a decadent custard. All the ingredients were combined and smoked for an additional two hours.
It was another Texas gourmet BBQ evening! "BBQ you can't find or buy anywhere!"