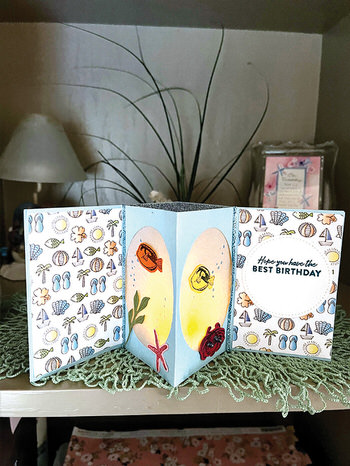 Cherlyn Conway
On the third Saturday in June, Room 104 in the CATC was packed with ladies and excitement in preparing to make this month's card presented to us by Mary Lee Garbowski. The folded pop-out card included vellum paper panels and a tea light to shine on the "Seas the Day Tealight" card, which was complete with sea life and sparkly blue waters. We had four guests this month, who we hope will return after seeing how much fun and support the club gives each other.
The card had many moving parts. We had an octopus, fish, crab, starfish, and seaweed all vying for their spot on the seafloor. There was not much visiting, as it was a group effort and guidance from our table teachers in getting all the parts together at the right time. The result, of course, was another very different and special card that will have the recipient oohing and ahhing!
Diana Krug won the drawing for the Hobby Lobby gift card for the coral and cream cards that will decorate the window for July and August. Many stampers entered cards this month. Be sure to stop by the CATC and check them out. Fall colors of yellow, gold, red, orange, and greens will grace our window for September. With this 100-degree weather, the fall colors and cooler weather sound enticing.
It's also Christmas in July in the Sassy Stampers' world, as the request was made to get the card designs in for the Support Our Troops (SOT) Christmas card. All cards submitted will be given to SOT to pick which design they want Sassy Stampers to make for SOT to send to all active and deployed military on their roster. In October, it's like an assembly line as stampers gather to put the 100-plus cards together. The card making continues for SOT on July 8 as stampers who have some free time will gather to make birthday cards for the SOT roster.
Want in on the fun and fellowship? Come as a guest to one of our monthly meetings on the third Saturday of each month. You might surprise yourself as you awake that creative monster within you. Watch the HOA daily email blasts for the next meeting and time.
If you want more information on the Sassy Stampers club, you can contact our club president Lisa Olson at 817-903-9894 or [email protected]
Until next time, ink side down, and keep on stampin'!