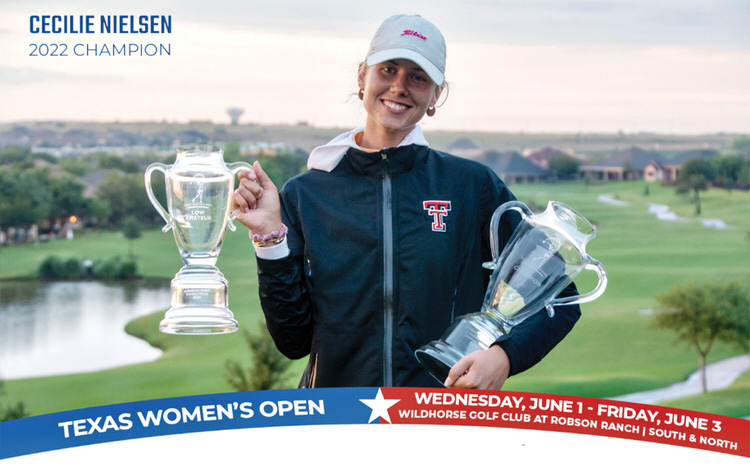 Cecilie Nielsen is the 2022 Texas Women's Open Champion! Nielsen carded a final round 66, 6 under par, to finish the Championship at 12 under par and won by one shot. She shot rounds of 70-68-66–204.
Nielsen, who is from Horsholm, Denmark, and a member of the Texas Tech Women's Golf Team, started the final round three shots behind the leaders. She came out of the gate with three straight birdies, which led to a front nine 32. She carded two more birdies on the back nine before play was suspended, with three holes remaining in her round. After a one-hour and 57-minute delay, she finished with three straight pars, enough to claim the title by one shot.
Throughout the final round, Nielsen was also battling food poisoning. "I didn't really think about winning. I just wanted to be done and finish so that I didn't do all this work for nothing. I am really happy that it resulted in me winning," said Nielsen.
As an amateur, Nielsen earned a $1,000 gift certificate for the win. The second- through fifth-place players, also amateurs, were awarded one as well.
The low professional in the field this year was Canadian Kelsey Sear. She fired three under-par rounds of 68-71-69 to finish the Championship at 8 under par. Her top finish in the professional division and sixth place overall earned her a $12,500 payday. The total professional purse was $47,000.
The 2022 Texas Women's Open was presented by CG Infinity and TPX Communications and supported by the Women's All Pro Tour.
The Texas Women's Open took place at Wildhorse Golf Club at Robson Ranch, par 36-36–72 (south/north), yardage: 6,310 yards.
Thank you to all the Robson Ranch homeowner volunteers: Diane Bent, Jimmy Hayes, David Phelps, Larry Carlson, John Sanner, Tim Trotter, Jan Norton, Sue Galinski, Bill Moore, Lesley Miller, Barry Metrolis, Pam Kanawyer, Robin Hanna, Steven Carr, Paula Hayes, Barb Trotter, Guy Bent, David Phillips, Jim Field, Ed McGlaston, Linda Scott, Julie Laderach, Gary Geiser, Shirley Green, Paul Callaway, John Boyne, Justin Norris, Chris Root, Gale Hicks, Dave Lucas, Kathy Ackerman, Rich Fitzgerald, George Wendt, Brenda Watson, Leroy Schuetts, and Lucia Bone, and a special thank you to Bob Hanna for coming in early and staying late. We appreciate your support.