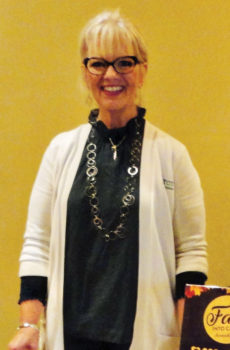 Marie Milleage
If you attended any of the Living Well seminars you were greeted by Pat Sherman, Vice President of Business Development at DATCU Credit Union. A native of Denton, Pat joined DATCU in November 2005 and over several years has continued to make a difference in Denton while receiving admirable recognition for her membership in and dedication to more than 10 community organizations.
Maybe you met Mike Vance at the Living Well Men's Health Seminar. A longtime member of the Denton community, Mike began working for DATCU in February 2013, retiring after 27 years with the Denton Independent School District where he functioned in different positions as teacher, coach, assistant principal and principal.
Under Pat's management and with the generous sponsorship and support of the credit union, since 2005 Living Well seminar attendees are offered an assortment of edibles of cheese and crackers, cheese and fruits or vegetables, and the shamelessly, delicious chocolate chip cookies, all prepared by the Wildhorse Grill. Regardless of the number in attendance Pat makes sure that sufficient refreshments are available for all.
In addition to providing treats and delicacies, Pat contributed the names of several speakers from Denton County who are principal individuals within industry. One DATCU executive explained how individuals and retailers may become victims of credit card fraud and identity theft. Another program presenter enhanced residents' knowledge about Meals on Wheels, and specifically the operation's functions in the Roanoke area of Denton County.
At the conclusion of each program, Pat or Mike pulls drawing tickets and announces winners of a variety of door prizes including rain birds, note journals, umbrellas, automobile sunscreens, pizza cutters and more.
Many Robson Ranch residents are members of DATCU, and as a member and an owner each has equal ownership and one vote.
Look for Living Well seminars in 2018 offering a variety of topics. More information is available on www.rrlwc.com.
All content within presentations sponsored by the Living Well at Robson Ranch Committee is intended for general information only. It should not be treated as a substitute for the medical advice of a professional health care provider. Neither the Living Well at Robson Ranch Committee, Robson Ranch Denton HOA, nor Robson Communities is responsible or liable for the content and do not endorse any commercial product or service mentioned or advised in any presentation.