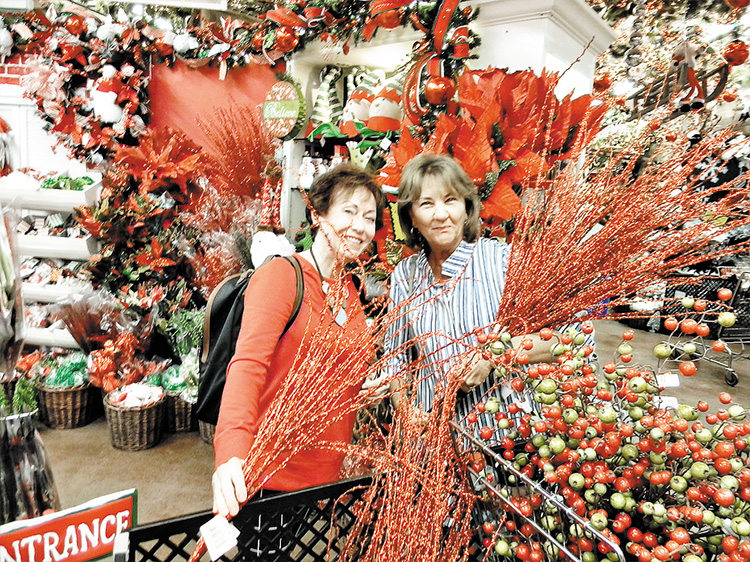 Barbara Cummins
Eighty Robson Ranch Women's Club members took a day trip to Decorator's Warehouse in early October. If you are not familiar with this Arlington treasure, it is the largest Christmas store in Texas that features more than an acre of beautiful decor set in amazing displays.
RRWC guests enjoyed a Christmas tree decorating demonstration, highlighting the newest trends in tree toppers, lighting, ribbons, florals, sprays, and ornaments.
After the demonstration, guests roamed the store, credit cards in hand, and shopped — taking advantage of an exclusive discount for RRWC members.
Once the credit cards were stowed away and their purchases loaded, the women consumed a catered lunch at the Rose Garden Tea Room. Recently relocated to Gracie Lane, the restaurant is surrounded by a collection of small boutiques offering an array of home decor, jewelry and apparel. During lunch, RRWC Special Events Board Member Sally Hampton distributed door prizes. Lucky attendees won decor from Decorator's Warehouse or specialty teas from the Rose Garden Tea Room.
It was a great day, and to top it off, the ladies enjoyed wine on the short bus ride home.
The next RRWC day trip will be to the George W. Bush Presidential Center on December 5. For additional details and registration materials, go to rrwcwomensclub.org.