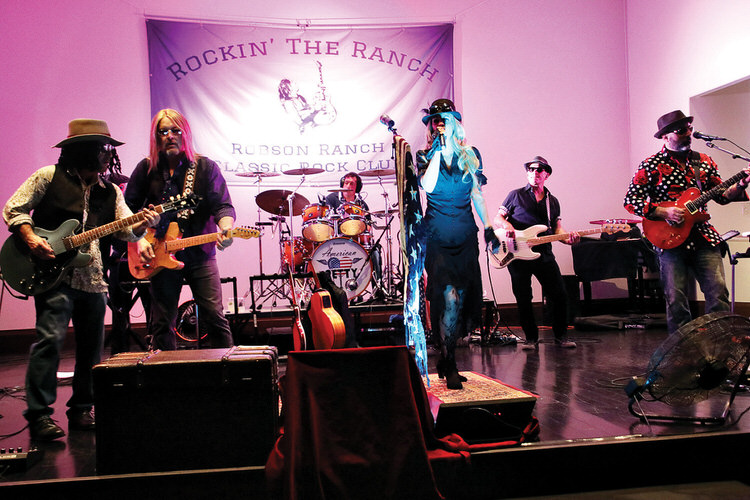 Stan Brein
Too many have left us. The numbers increase weekly, each time taking part of our youth and memories with them. These faithful tribute bands allow us to close our eyes for a spell and conjure up the times we stood in the middle of the concert venue singing at the top of our lungs to the anthems we had come to memorize by either wearing down the vinyl or extracting the magnetic particles from the cassette tape.
On Saturday, Oct. 23, we received a dose of music therapy.
American Petty was formed in 2017 by musicians who love both music as well as the man (and myth). Their goal was to carry on Tom Petty's legacy with honor and professionalism, so they honed their act for a year before bringing it to audiences throughout the Southwest. Stanley Rose fronts the group on lead vocals and guitar, joined by George Welder (drums/vocals), Tom Monaco (guitars/vocals/plus), Randy Mishler (bass), Steve Cramer (evoking Benmont Tench on keyboard/vocals), and Rick Stanberry (as a spot-on Mike Campbell).
The icing on the cake is Hillary Brandise Leverton, who brings Stevie Nicks on stage in "Stop Draggin' My Heart Around." We also got to hear a bit of "Landslide" during sound check. And her Alice to Tom's (Stanley's) Mad Hatter in the "Don't Come Around Here No More" finale was a showstopper.
We listened to the signature tunes: "I Won't Back Down," "Learning to Fly," "Mary Jane's Last Dance," "You Got Lucky," "Free Fallin'," "Runnin' Down a Dream," and, of course, "American Girl." But what separates them from the pack is not only their ability to recreate the hits, but to also dive deep into Petty's body of work with B sides and some sparsely heard tunes: "You Wreck Me," "The Whip," "Wildflowers," and "Rebels." All told, it was over two hours of continuous music and stage theatrics. The dance floor got a good workout, as did the batteries on our cellphones as we waved our lights in cadence to the music. We even got to participate in a competitive singalong led by "Tom."
The Classic Rock Club continued their "give back to the community" philosophy by supporting the Coats for Kids Ride of Denton County. The Ride's mission is to encourage motorcyclists and the community to "Help Kids in Need, One Coat at a Time." A portion of each ticket was donated by the Classic Rock Club to the C4K Ride for a total of $1,000. The ride this year is Saturday, Nov. 27. Join us at American Eagle Harley Davidson at about 2 p.m. Come for the fun, food, vendors, and live music. And bring a new coat for a kid! If you would like to donate a coat, contact me at [email protected]
We have a pay it forward concert coming up on Nov. 19 featuring blues/rock artist Michael Lee and his band. His appearance on The Voice was awesome. Check out his Whipping Post video. Stay tuned for ticket distribution information. Desperado will be here for a dinner/concert on Dec. 9. And … there's more to come!
Follow us at tinyurl.com/57vhyts8 and get on the mailing list: [email protected]
Keep on Rockin' The Ranch!