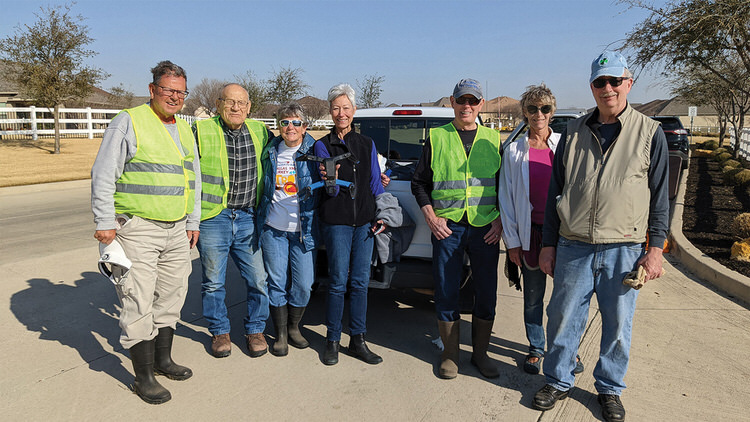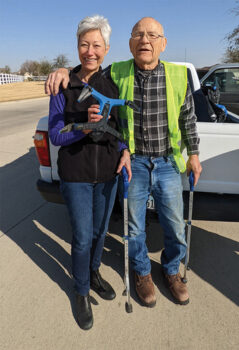 Vicki Baker (Contributors: Richard Kushmaul and Scott Baker)
A simple question was posed: "What would Denton be like if everyone picked up at least one piece of litter?" The city challenged its residents to do just that as part of the "Great American Cleanup" campaign, the country's largest community-based improvement program. Denton, one of more than 20,000 communities participating, designated March 26 as its "cleanup day" for 2022.
For more than 30 years, Dentonites have taken an active role in keeping their city clean and beautiful by taking part in this program. And the RR Democratic Club joined others (just as the club has done over the past five years) to dunk the junk.
Volunteers Elaine and Richard Kushmaul, Denice and Leonard Marusak, Mitch Mitchell, Vicki and Scott Baker, Sheri Quarfoot, Jeff Carnaby, and Margo Ways, took to the roadside along Robson Ranch Road, concentrating on the stretch between the Orangewood gate exit and Interstate 35. Over a two-hour period, 10 bags of trash and two bags of recyclables were collected.
In previous years, many unusual items have been found, from softballs and golf balls to personal IDs and credit cards. This time around, the most unique item discovered—an intact aerial drone. With curiosities piqued, Scott Baker (the techie of our group) delivered the drone to the RR Drone Club, which had the resources to research its origin.
Dennis Brooks (VP of the Drone Club) identified the manufacturer and discovered the drone was lost July, 2021. An insurance claim paid off; thus, no reward was forthcoming. Surprisingly, the batteries still held a charge, having lasted through the freezing winter and recent rains. The retained memory card's stored video footage contained grids covering large tracts of land, data an engineer would typically use.
So, what's the back story on the lost drone? The large flux of magnetic interference from the voltage lines along Robson Ranch Road likely caused the internal GPS to land the drone out of sight of the operator. Although going down on the north side of the road, the drone was found on the south side. Apparently, after crashing, it floated down a ravine or two and through a drainage pipe underneath the road. Then, along came the Democratic Club road cleanup crew. The drone will now be cleaned up and prominently displayed in the Drone Club's showcase in the Creative Arts building.
The drone has found a new home. The mystery has been solved. Who knows what might be discovered at the next community cleanup? We've come to expect the unexpected!
The Democratic Club believes in the importance of community involvement and its lasting, positive impact on our neighborhood and city at large. Interested in becoming a part of this dynamic club? Come join us on the fourth Thursday of each month at 7 p.m. in the clubhouse for informative discussions on issues affecting our community, state, and country. For more information, contact [email protected]