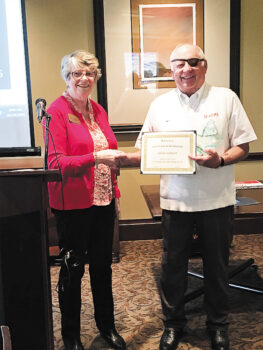 Jan Norton
Congratulations to Doug Gandy, Robson Ranch Kiwanis Citizen of the Year!
Doug was elected by the Kiwanians for his volunteering spirit in Robson Ranch. Doug often helps those who are unable to care for themselves by performing small tasks such as putting in light bulbs, visiting those who just need to talk, or sitting with a man in order to give his wife or caretaker a break during the day. Doug has been known to cook fish he catches and then share with others. He can be counted on to help hospice patients in our area.
Doug has shown all of us how to be a little more caring, a little more sensitive to the needs of others. The time and talents he shares with others make Robson Ranch the peace-filled place we all want. Thank you from all of us, Doug.