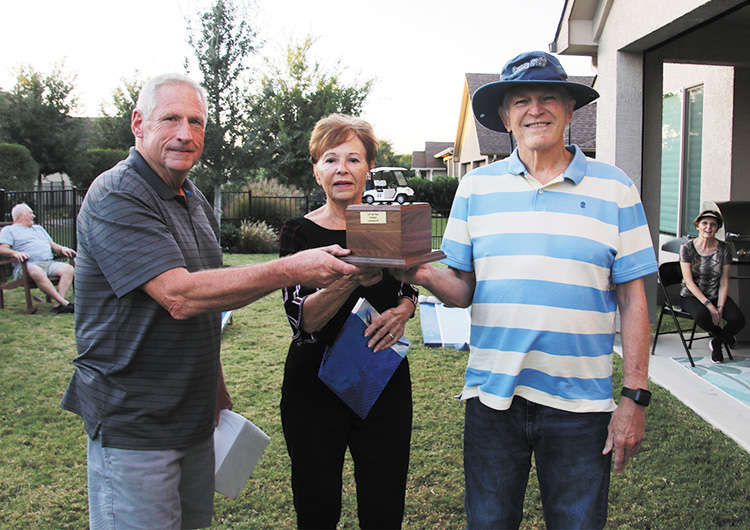 Stan Brein
The Lynnbrook Lederhosen Society held their annual BlocktOberfest on Oct. 24. Kathy and Steve Bailey graciously opened their house for the event. With a variety of sausages and meat procured from Fischer's Market in Muenster, Texas, Grillmaster Jeff Duncan managed the cooking of the delicacies until they were just right for serving. These beauties were complemented by the great dishes from the Lynnbrook households, from German potato salad to tangy sauerkraut to scrumptious macaroni salad. Diners had to carefully control their entrée portions to save room for dessert offerings. (The author tried several of these, only for the purpose of being able to report on them for this article. Really!). A variety of beverages (adult and otherwise) accompanied the food, and combined with Steve Bailey's superb Oom-Pah Greatest Hits mixtape, we could have been in the best Biergarten in Munich.
The fun was just beginning. The highlight of BlocktOberfest is the Golf Cart Drag Races. For 30 minutes, Lynnbrook Drive is turned into the coolest quarter mile track you can imagine. This fine stretch of asphalt, with course laid out in fine detail by Steve Bailey, comes complete with a starting line (with flag drop), a finish line and a runaway ramp at the far cul-de-sac. (BTW – Patrol does not need to be made aware of any of this.) Each resident's driveway served as a pit as the entrants prepared their chariots for battle. There were definitely some new vehicles present this year. Who knew that you could get a cart with racing slicks and a jacked-up suspension that ran on nitro-methane fuel! With squealing tires and burning rubber the heats got underway. After all was said and done, with Beach Boys and Jan and Dean songs dancing in our heads, the winners were crowned.
Jerry Hollinger blazed his way down the strip to win the men's division, with Cheryl Busey shutting 'em down to take the women's division. Bragging rights will last for one year until they have to put it on the line again. Jerry received Karen Meier's newly designed Lynnbrook Drive Golf Cart Race Roving Trophy, with Cheryl donning the Tierra of Triumph.
The festivities moved to the backyard for the eagerly anticipated Texas Toss (Cornhole) competition. The betting boards in Vegas were active as eight teams prepared to put those bags of sand on the board, or better yet, in the hole! When all was said and done, Trish and Rob Kuhfuss prevailed triumphantly. They were awarded the (hastily prepared but soon to be) coveted Beans in Bag trophy. Every expense was spared in the design of this beauty.
Thanks to everyone who participated: Betsy and Jeff Duncan, Cheryl and Charles Busey, Trish and Rob Kuhfuss, Donna and Bruce Camp, Susan and Greg Dove, Pam and John Vollmer, Sherrie Taylor, Richard Bacon, Eileen and Tom Ballock, Ollie and Jerry Hollinger, Joyce and Stan Brein and Kathy and Steve Bailey. Only Mark and Karen Meier weren't able to join us.
And thanks to our four-legged guests, Sophie Bacon and Annie and Bailey Bailey.
Until next year, Prost!