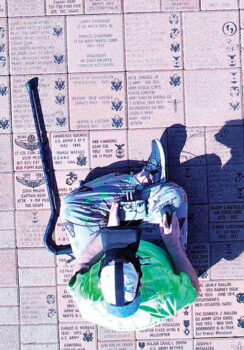 Dennis Brooks, Club Vice President
On Feb. 28 we held our monthly Drone Club meeting at the Creative Arts and Technology Center (CATC) in Room 104 at 7 p.m. The meeting was well attended. A video of the meeting was developed for those members not available to attend, who want a bit of entertainment and information.
For the first time, President Steve Simpson set up equipment to record the entire presentation and make it available via IO Groups on YouTube, for members unable to attend the meeting. He was also responsible for meeting photographs and putting our meeting photos and synopsis on his own Internet site that shows current and past meetings. This is another product for members developed by President Steve Simpson, who should be recognized for all his work!
The presentation was about flying with a "Drone Mask," a type of goggles that allows First Person View (FPV) flight with camera drones. The slide show introduced the product as received, the additional equipment required/recommended, and examples of Drone Mask flying through slides and videos. Key safety elements about induced vertigo and the requirement for a second person observer to maintain Visual Line of Sight (VLOS) were part of what was covered. Flying from my home also requires a LAANC filing, because I live in the Denton Airport Controlled Airspace on the northeast portion of Robson Ranch Denton as it currently exists.
The presentation covered the equipment you would receive and their value, what you could expect to see once your phone and drone software are active in the Drone Mask, the value of a Bluetooth mouse for control, two of my Drone Mask flights with photos and lessons learned, one of what I feel is the better videos reviewing the Drone Mask, questions, a preview of the March 28 meeting, and a final wrap to the meeting.
The meeting was very interactive, with strong audience questions and participation. Everyone seemed to feel it was an interesting new way to fly the camera drones and enjoyed the presentation. We were very happy with the turnout. One of the highlights of the presentation was the photo of my first flight with the Drone Mask. I received it for Christmas, and bad weather kept delaying my test flight. Finally, I went out one morning in pajamas and robe and tested out the Drone Mask with my drone. My visual observer was my wife, standing to my left telling me what an idiot I was out in the cold before I even got dressed. I had a great time! We hope you will come join us for future meetings. Tentative plans for the April meeting are to have a drone fly where people bring their drones and fly during the 30 minutes after sundown, one of the better lighting times for cameras.
The Drone Club has no dues. We meet the fourth Monday of every month, other than August and December, at the CATC in Room 104 at 7 p.m. The meetings last an hour.
At our March 28 meeting, Steve Simpson (Drone Club President) gave a presentation of safe flying and recommendations for drone purchases based on our experience. Examples of the drones we fly, from the Mavic MINI to the Mavic 3, with all models between, were on display.