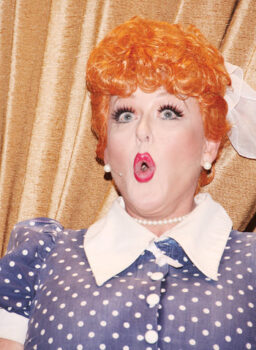 Rebecca Elsen, Singles Event Chairperson
On May 24, 1965, Lucille Ball interviewed Frank Sinatra on her Let's Talk to Lucy show. On April 8, 2022, Lucy was once again starstruck and got an autograph from Frank at the Robson Ranch clubhouse during the RR Single's Club 50s-style Comedy Night Club Show. After a wine and cheese cocktail hour, doors opened, and the guests were greeted by two Cigarette Girls (Tiffany Clayton and Nancy Kilkenny) who went table by table offering candy cigarettes.
The Master of Ceremonies (Jerry Nissen) welcomed guests, facilitated buffet dining, and then got the entertainment underway with an introduction of the opening act by Frank Sinatra (Grant Wright). Frank performed many of his famous ballads and impressed the audience with his smooth and seductive vocals. A Dean Martin song, complete with scotch and a cigarette, had the audience crooning along.
Lucy (Rhonda Medina) rushed on stage at the end of Frank's final "New York, New York" rendition to get his autograph. Lucy then continued to wow the audience with humorous, spontaneous interactions with audience members. Although Lucy's legacy left us all with many great memories, we were enthralled with two of her most iconic and famous skits—"Vitameatavegamin" and the "Chocolate Factory."
Entertainer Contacts:
Rhonda Medina: Rhonda is a singer, actress, and celebrity impersonator from Hollywood who moved to Dallas in 2003. rhondamedina.com
Grant Wright: Grant is an Argyle junior, active in theatre and music, and you might see him parking golf carts at Robson. [email protected], 469-610-8111, Facebook: GrantWrightSings