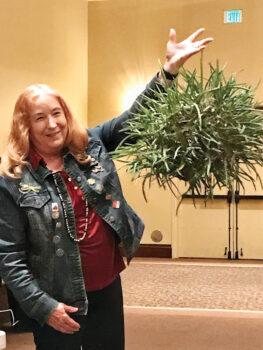 Theresa L. Peoples
Robson Ranch welcomed local celebrity, Dottie Woodson aka the Orchid Lady, to share her knowledge about orchids with over 65 residents and members of the RR Garden Club on Jan. 20, 2020.
Dottie holds up a 30-year-old Epiphyllum orchid (those that grow above the ground) called "The Lady of the Night"…it blooms and is fragrant at night and has pencil size foliage.
Lipophetic orchids are more common, their roots grow in compost. Dottie shows an example of these types of orchids growing on a fallen tree branch with compost which she has had over ten years. The group learned which windows are best for orchids and they were reminded that orchids are perennials and bloom only once a year but with proper care will bloom again.