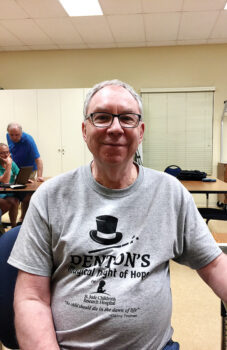 Jan Norton
This is a continuing series on the members of Kiwanis at Robson.
Mike Weaver—reason enough to be proud to be a part of Kiwanis at Robson Ranch. Mike has a long line of experiences and projects he has been involved in, topped by eight years on the board. Diligent about making certain Kiwanis supports all Living Well and many Robson volunteer activities, Mike certainly has stories to tell, but the one experience that came immediately to mind was attending the Fred Moore Alternative High School graduation in the Gateway Center at UNT.
Every year, Mike is in the audience. In December, he joined our president, Maureen Pocock, and shook hands with the two $1,000 scholarship recipients. Knowing what was to come next, he reached in his pocket for the stash of tissues, preparing for the tears he knew he would shed as he listened to several students share their personal stories of dangerous family situations, drugs, pregnancy, poverty, deprivation, hopelessness.
Mike was fully aware of the many activities and hours that went into the gifts to the students. Kiwanians sold hot dogs, served pancakes, worked the garage sale and the silent auction, served meals at Texas Speedway, and, coming soon, Soles for Souls.
In the spring, we will also award three $1,000 scholarships to TWU students through donations. If you would like to contribute to the Kiwanis foundation designated to scholarships or learn more about Kiwanis, contact Mike, myself, or any Kiwanian at Robson.