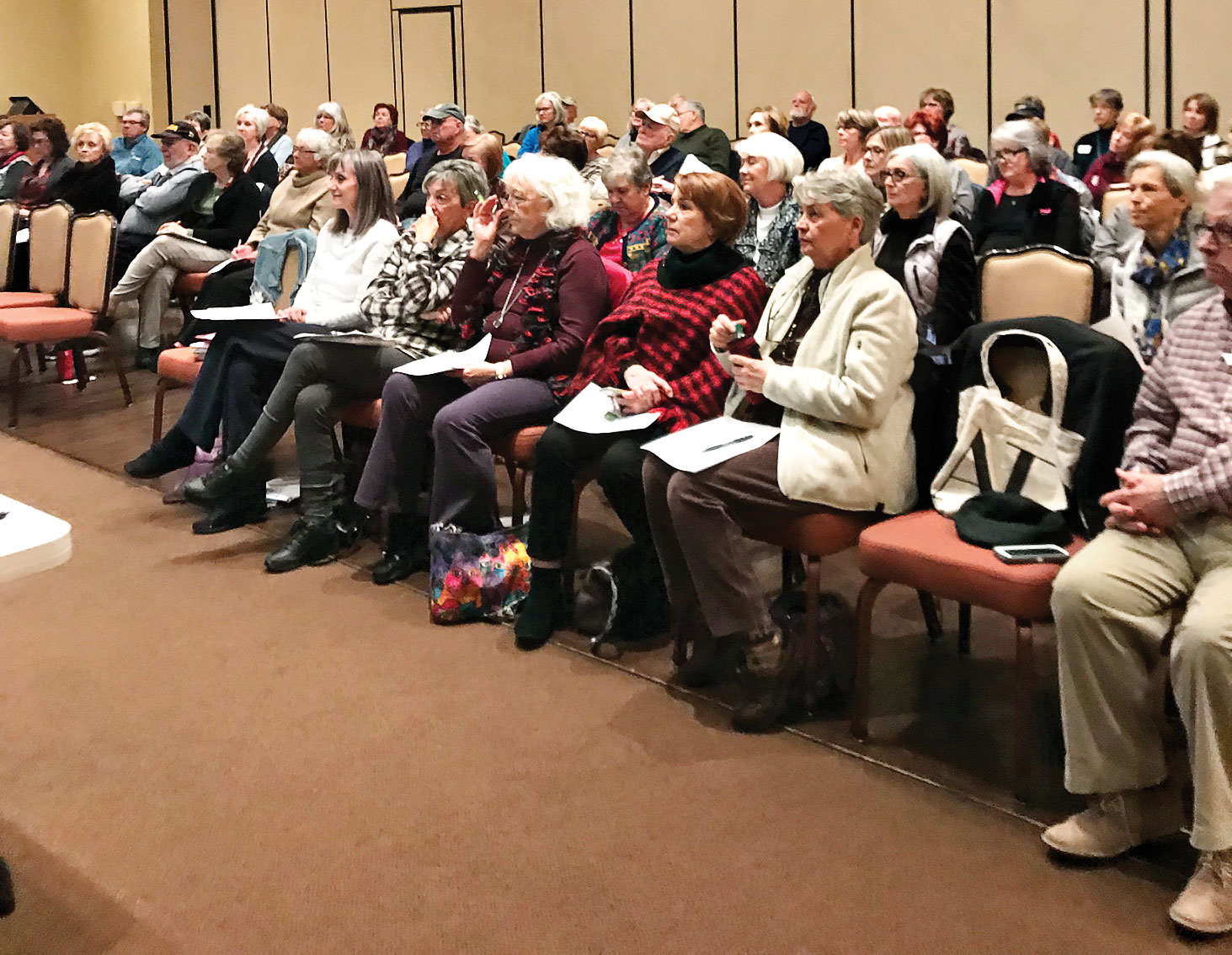 Theresa Peoples
The Lone Star Room was packed on Monday, February 18 for the Robson Ranch Garden Club meeting. The club's guest speaker was Mrs. Shirlee Singer, a Denton County Master Gardener since 2009 who has been teaching horticultural practices from Texas A&M EarthKind and design since 2011. Her presentation on Fire Wise Landscape Design was very informative and thought provoking. Mrs. Singer explained along with her slide show that landscape design is a multi-faceted, ongoing process with soil, wet/dry – drainage issues, sun/shade – summer/winter patterns, cold – (Denton Co. is in USDA Hardiness Zone 7b and 8a (Texas Zone 4 and 7), hot – Heat Zone 9, wind – seasonal directions. When planning home design, a formula of one-third turf, one-third hardscape and one-third plants is best.
Shirlee suggested, for a landscape to be fire and water wise there are things that should be kept in mind such as: hardscape next to the house and be aware of where your air intake vents are located. Zone 1: zero to 30 feet of space from a structure. Group and space plantings so they don't create a continuous path for the fire. Native xeriscape landscaping allows water wise and fire wise practices to create a landscape that will flourish in hot and dry conditions. The club was given several suggestions for fire-wise succulent plants. Salt tolerant plants are also good at resisting flames. Many of the members went away with a lot more knowledge on designing yards with Earth-Kind landscaping, which is truly the best for our yards and our neighborhoods.
Again, the Robson Ranch Garden Club invites all residents to join our club and not only learn how to be wise gardeners but have fun and meet new friends. The club always meets on the third Monday of the month and the dues are only $10 per household. Next, month on March 18 we will be having a membership plant exchange. This is where members thin out their beds in preparation for spring and give away any surplus plants. We will draw for selections. There will be a resident master gardener, Mr. Steve Simpson, who will also give a brief talk on turf management for Robson Ranch; you will not want to miss this meeting.
We meet at 10:30 a.m. in the Lone Star Room in the clubhouse. Don't forget your plants. See you there!