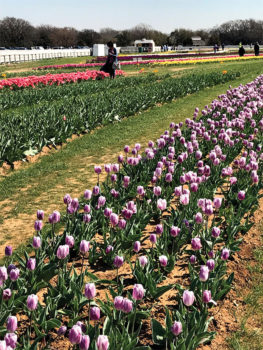 Theresa L. Peoples, VP/Program Chair
The Robson Ranch Garden Club members will be meeting on February 19 in the Clubhouse parking lot at 9:40 a.m. to carpool to the Texas Tulip Farm in Pilot Point. Owner Mr. Pieter Koeman will speak to the club about tulips and the 600,000 bulbs he grows on his farm and what it takes to grow them.
Each member will be charged $3 for Mr. Koeman's expertise. However, if you would like to pick three tulips, it will be $7.50 for the tulips and the admittance charge will be included (correct change would be appreciated). The tulips will be packed in a preservative so we will make it home with them.
Afterwards, the membership is invited to have lunch at Bebo's Cafe. Each will be on their own but it will be a time to visit and share thoughts about what we learned.