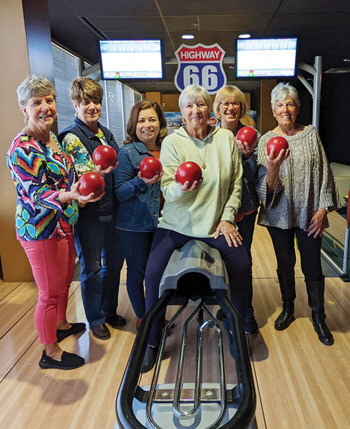 Vicki Baker
Steee-rike! The foul line is approached. The ball is thrown. A swoosh is heard as it races down the narrow track toward a group of club-shaped wooden objects. At the last split second, the ball curves into the pocket between the number 1 and number 3 pins. Then, the crash as all 10 pins explode in a frenzy. Bowling—a sport played by over 100 million people in more than 90 countries—and Girls on Wheels (Vicki Baker, Cassie Richardson, Shirley Monge, Karen DiPietro, Nancy Burns, and Susan Hebert) explored the sport's past, present, and future at the International Bowling Museum and Hall of Fame.
Outside, a 20-foot metal bowling pin beckoned us in for a closer look. The history and innovations of bowling unfolded through rare artifacts, life-sized replicas, touch-screen kiosks, interactive exhibits, and film clips. We followed the sport's 5,000-year journey from archeological digs in ancient Egypt to British monarchies, American taverns, the first bowling "alley," and today's computer-assisted training centers. And for a unique bowling experience, we actually bowled on "Route 66" mini-lanes!
The Science of Bowling exhibit detailed the construction of balls, lanes, and pins. A replica diner, bowling-related neon signs, and early corporate teams reflected the golden era in the 1950s when prime-time bowling TV shows were popular. The life of a "pin boy" was pictured before the automatic pinsetter was invented. The cultural impact of the game through the literature of Washington Irving and the cartoons of Charles Schulz was examined. And we witnessed the latest computer-assisted coaching techniques and current trends in Olympic training.
In the most recently installed exhibit, the long and colorful history of women's bowling came to life. "Bowls for Women" detailed the obstacles women have overcome in the past 200 years, from being barred from the game to entering the league of professional bowlers.
Girls on Wheels wandered through the Hall of Fame telling the stories of bowling's greatest legends through film clips and rare photos. And who was found in the database archives housing the names of bowlers belonging to the USBC (United States Bowling Congress), the national governing body of bowling, and having bowled multiple perfect, 300-score games? None other than our very own Robson Ranch resident Jim Richardson, Cassie's husband!
The museum, a hidden gem located in the heart of the metroplex, displayed the accomplishments of the world's greatest bowlers, painted a picture of a sport dating back to ancient Egypt, and served as a training facility for tomorrow's champs. But for Girls on Wheels, its mission was simple: It inspired us to lace up those goofy shoes and hit the lanes, whether we score frequent strikes or wind up in the gutter!