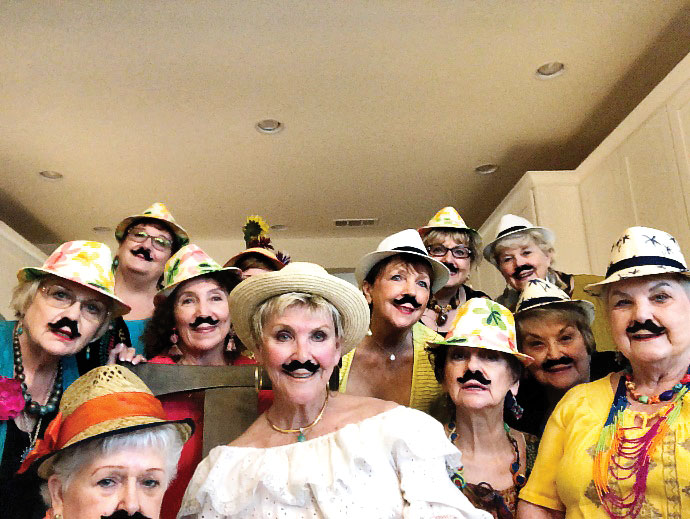 Gayle Coe
It was time to sip the mojitos and taste the empanadas! Judy Ondina, Sally Baggott, Peggy Crandell, Margaretha Kortschak, Sharon Foy, Nancy Garre, Gayle Coe, Joan Krause, Jan Utzman, Mary Ann Johnson, Ruby Wilson and Carol Cieslik were invited to Nancy Garre's home for a night in Havana!
In keeping with the spirit of a delightful Cuban evening, everyone dressed in her most colorful tropical couture. Nancy greeted her guests with impressive accessories which included a Cuban straw hat and moustache. The tone was set for a humorous evening!
The hospitality continued as Nancy served hand-crafted mojitos and homemade empanadas while she shared stories of her adventures in Cuba. The evening progressed as Nancy presented more delicious Cuban cuisine, complete with amazing, authentic paella. Nancy continued to set the "island vibe" with her gracious hospitality as she served authentic Cuban sipping rum. It was so smooth the party thought it had been transported to the tropical city of Havana.
The Cuban nostalgia didn't stop there. It was at this point the party moved to the patio so guests could enjoy genuine Cuban cigars with their Cuban rum. This one of a kind experience included Cuban music playing in the background while everyone offered to light each other's cigars with much jollity as they sipped rum and shared funny stories around the fire table. Everyone had a hilarious time!
As the evening concluded, we found ourselves back in Nancy's den thinking about tropical evenings as we planned another fun event with our fantastic friends.
Nancy, gracias for a marvelous Havana night!