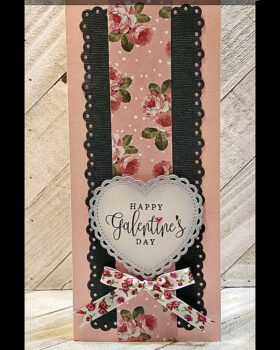 JoAnn Gantos
There was an outpouring of hearts for our January Sassy Stampers online meeting. Tami Fenton, once again wowed us with her talent for demonstrating our January meeting and card design. This Valentine card is so cute and easy to make thanks to Tami. You are amazing and we are so grateful you enjoy doing this for our club.
As we continue our online virtual meetings, dare I say it, it seems to be getting easier or we are just becoming more used to meeting this way. Regardless, this slimline trifold "Galentine's" card is adorable. That is not a typo. This card is for your favorite gal—not your sweetheart. Therefore, it is a Galentine's card. Our card kit contained cardstock, which we fashion into a trifold card base, ornamental die cut piece with a strip of heart designer paper. In addition, we received beautiful die cut hearts and ribbons to complete this card. Instructions, as always, were distributed online also. Suggestions were made on how to dress up the card too! Tami demonstrated her techniques for shading with inks and using markers. Thank you, Tami, for your leadership and craftiness! Also, please pass thanks to your friend who donated the beautiful envelopes and papers.
As always, when making this card on your own, it can be dressed up or down for any occasion. All the cards we make are very versatile. Sharing ideas is another plus to our club. We are all artists in our own right, and that is why each card we make is a one-of-a-kind card.
Don't forget, club members, that club dues are needed for the new year. Only $15 for the year, and with that, you have access to a fantastic group, card making tools and supplies, and you get to make beautiful cards. We conduct 11 meetings a year and celebrate with an end of year celebration. We also have special projects and support Support Out Troops throughout the year. We are hoping to be able to meet in person again soon this year. Stay tuned for that exciting news!
For any questions about the Sassy Stampers Club, contact Diana Krug at 940-262-3184.