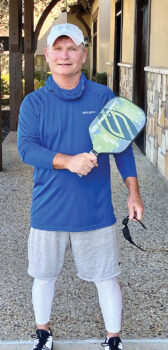 Dave Parker
This month the Pickleball Club would like to feature Rod Daake, as player profile of the month. Rod has an inspiring story that we all can benefit from.
I am a husband, a father, and a grandfather of five. I am a blessed man. After over fifty years living in Nebraska, my wife, Monica, and I moved to Texas to be closer to our grandchildren. I had worked as a vice president of a bank in Nebraska. I retired from that career and spent the last ten years of my work life as a teacher's aide in Fort Worth.
In 2010, I was diagnosed with melanoma. The cancerous growth was removed and following surgery, I was declared NED (no evidence of disease). However, in 2014, the melanoma had metastasized. There were tumors in my lungs and brain. I was diagnosed as having stage 4 melanoma. The five-year survival rate for patients with stage 4 melanoma is between 15%-20%. My cancer was aggressively treated with targeted therapy, gamma knife surgery, and immunotherapy.
In 2017, we moved to Robson Ranch. I knew that Robson had much to offer and would be a safe place for Monica if she were alone. Shortly after moving to Robson Ranch, I was introduced to pickleball and discovered a passion for the sport. After completing the pickleball academy, I got involved and met other pickleballers. I was blessed with many new friends.
At this point, my health was stable. Although I still had tumors, they were not growing. I was able to play pickleball and decided to enter a tournament with my friend, Gary Winter. At the time, I felt good but I noticed my pickleball skills were suffering. I could not get a serve over the net. This was my first indication that something was wrong. My oncologist ordered scans and found a significant tumor growing in my brain. In October 2019, a craniotomy was scheduled at MDA in Houston.
It was a long and difficult procedure. While I was in surgery, my family prayed and waited for hours. Little did I know, my pickleball family was praying as well. Carrie Summers had organized members of our pickleball club to meet at the courts and pray for me. I was covered with prayers.
The craniotomy was successful and the tumor was removed. Since the brain surgery, my desire to again play pickleball has driven me to push myself. I was able to challenge up to A and am currently in the best shape of my life, with no evidence of disease. I am a blessed man. God has blessed me with good health, Robson Ranch, many new friends, and pickleball. I am truly blessed.
If you would like to join in the fun of pickleball, check out the club website at www.rrdpc.com. On the club website, you can sign up for the Pickleball Academy, which will teach new players all the basics in three evening classes.