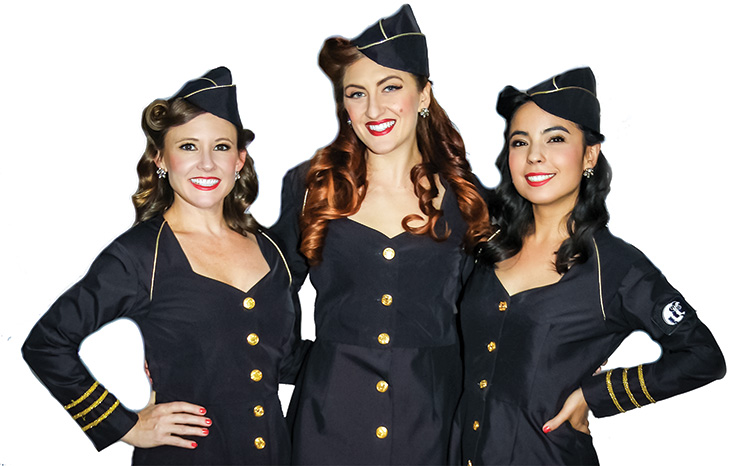 HOA Presents: The Manhattan Dolls, performing Sentimental Journey – Sound of the Andrews Sisters, on Friday, September 27. Doors open at 7:00 p.m. with the show starting at 7:30 p.m. in the Clubhouse Auditorium. Tickets are $26 per person.
The Manhattan Dolls originated in New York City, but are now based out of Arizona, and are a swing-style female vocal trio with the sound of the Andrews Sisters. Started by a former USO girl, The Dolls travel the world performing for military events, cruise ships, parades, jazz clubs, concerts series, you name it! They have been featured on The Rachael Ray Show, BBC Radio London, Fox and Friends, LX 4 NY, Tucson Morning Blend, Cincinnati Local 12 and more. They have also performed with famous bands, including The Jive Aces in the UK, The Cotton Candies in France and The George Gee Orchestra and The Stan Rubin Orchestra in New York City.
Sentimental Journey features music from the 1930s and '40s in the style of the Andrews Sisters.
Hop aboard the Chattanooga Choo Choo and join The Manhattan Dolls on a Sentimental Journey through the great music of the '30s and '40s. Sit back and enjoy these timeless classics, or if you're In The Mood, get up and dance! Sentimental Journey blends beautiful ballads with your favorite toe-tapping tunes and, of course, in classic USO fashion, takes some time to honor our brave men and women in the military. From boogie woogie to the blues, Sentimental Journey celebrates the best that the Great American Songbook has to offer.
You can purchase your tickets Monday through Friday, 9:00 a.m. to 4:00 p.m. starting Monday, August 26, at the Activities Director's Office. Contact Shelbi Berg at 940-246-1002 if you have any questions.