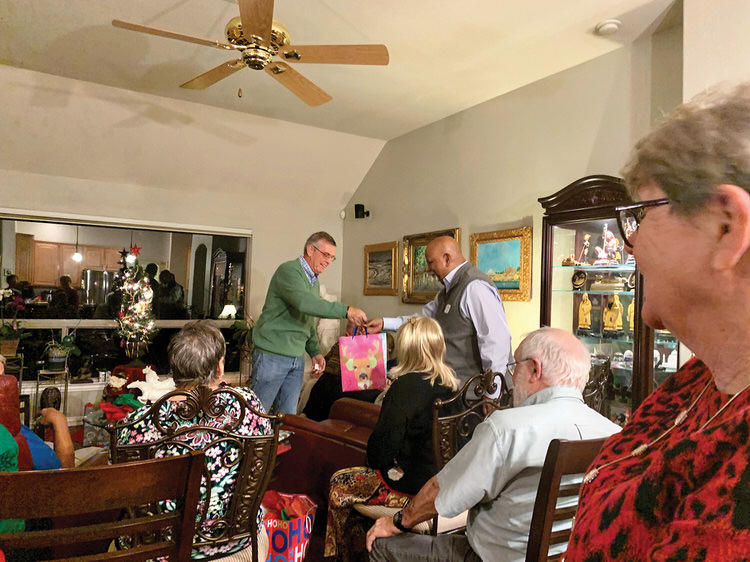 Rupa Mathur
The International Club members held their Christmas meeting on Dec. 18. Rupa Mathur and Alfred Van Gool hosted the meeting. The hosts prepared the main course dishes consisting of turkey and ham, and the members brought delicious appetizers and desserts. We had a great deal of fun exchanging and stealing each other's Christmas gifts.
Our January meeting was held at Lenie and Loren Christensen's home. Due to COVID-19, some members decided not to attend the gathering, but we still had several members in attendance.
Lenie made the main course, and everyone else brought delectable appetizers and European desserts. We had a lot of fun discussing current events and talking about our future meetings. We were very happy to have some of the new members attend our monthly gathering.
The members selected the following members as officers for the 2022 year:
President—Lenie Christensen, Vice Presidents—Rupa Mathur and Marie-Christine Koop, Treasurers—Fred van Naerssen and Alfred Van Gool, Sunshine Person—Eileen Whittaker, and Publicity Officers—Marie-Christine Koop and Rupa Mathur.
We are very happy to welcome new members Elke Harwood, Ingrid Currier, Ron Currier, and Elizabeth Wickert to the International Club.
Our January meeting was hosted by Marie-Christine on Jan. 17.