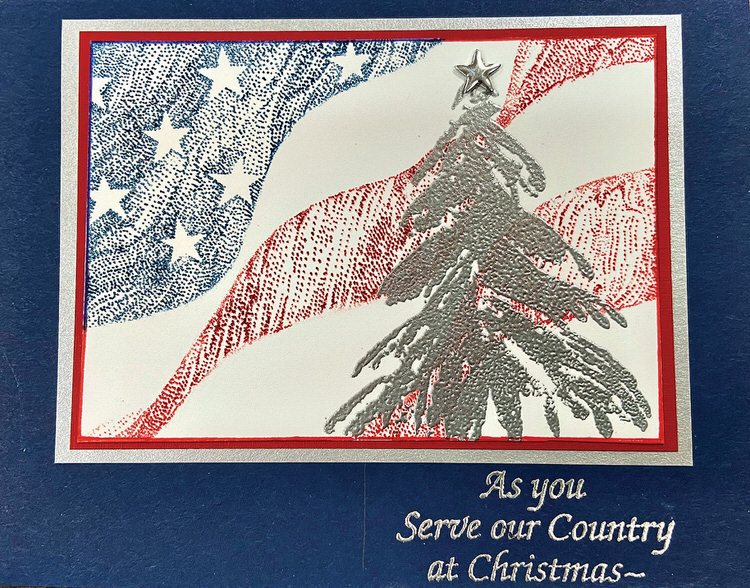 JoAnn Gantos
A group of volunteer Sassy Stampers met on Sept. 27 to assemble 100+ Support Our Troops Christmas cards. Earlier this year, project leader Debbie Thomas asked the club to submit sample cards to be considered for the SOT Christmas Card. This is a great project our club has supported for the past few years. The 2021 design selected was submitted by Marti Goodrich, and it is beautiful—a waving American flag with a beautiful pine tree, along with a sentiment: "As you serve our country at Christmas." This project requires a large effort and support from our club volunteers, including cardstock and paper decisions, cutting, and with this card, heat embossing, stamping, and more.
The club volunteers met, then put all the pieces together via an assembly line-type of process. Around 100 cards were completed, which will ultimately be sent out to armed forces related to or friends of Robson Ranchers' families by the Support Our Troops club. It is such a great cause to be involved with.
Project Leader Debbie Thomas thanked all the volunteers for their time and work. In addition, she sent a special thanks to Patty Cohen, JoAnn Gantos, and Diana Krug for helping with the pre-meeting, stamping, and cutting. Marti Goodrich made a beautiful design for this card, and her assistance with the stamping was greatly appreciated.