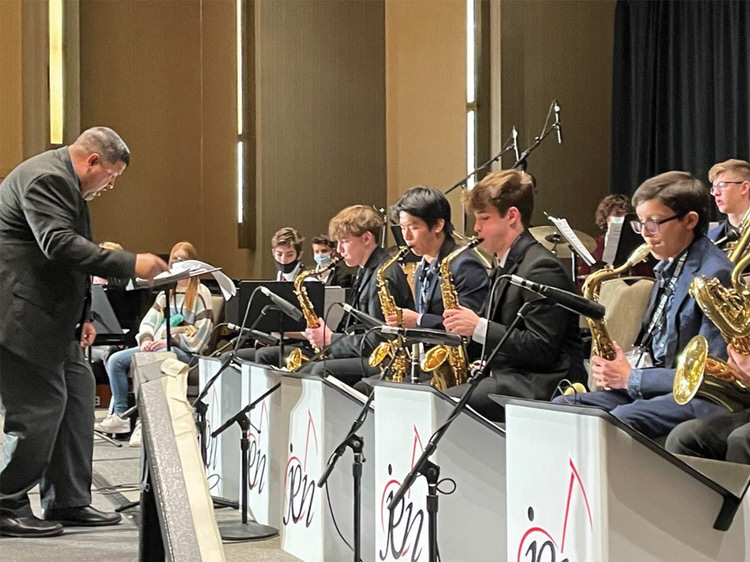 The Keller Area Youth Jazz Orchestra (KAYJO) will be featured during the Thursday evening Big Band Jazz Concert with Dancing to be enjoyed June 30 from 6 to 8 p.m., in the Robson Ranch ballroom.
The concert is presented by the Robson Ranch Jazz Club, a group dedicated to preserving jazz, a true American art form.
KAYJO has made a name for itself in the region as a premier jazz orchestra offering crowd-pleasing big band music. Musicians range in age from 14 to 17 years old, but they don't sound like kids. They're some of the top teenage musicians in the metroplex.
The teenage musicians of KAYJO are looking forward to their June 30 appearance at Robson Ranch. They will do two sets starting at 6 p.m. Admission is just $10. They are especially excited to play in the air-conditioned comfort of the ballroom. They do frequent outdoor performances, such as the one last year on July 4.
The youth orchestra is hard at work in rehearsal to ensure a crowd-pleasing song lineup when it comes to the Robson Ranch ballroom in a few weeks. Since this performance is just a couple days before July 4, you can count on some patriotic fare. And KAYJO always sets aside a moment to salute veterans.
Musicians of the Keller Area Youth Jazz Orchestra are some of the most talented teenage musicians in town. But they're still kids. You won't know it to listen to them, though. They're under direction of two gifted clinicians. The first set will be under the direction of Mr. Tom Burchill, a university jazz clinician. Mr. Burchill came to Denton many years ago to be part of the renowned jazz studies school at UNT. He stayed in town after college and has become one of the giggin'est jazz guitarists in DFW. Tom also directs the jazz ensemble at Tarleton State and teaches guitar at UTA. The second set is directed by resident conductor Dimas Delgado, who has an award-winning jazz education track record spanning the last 25 years. The fun starts at 6 p.m. on Thursday, June 30, in the ballroom. Don't let this night of big band jazz pass you by.
Tickets will be sold in the clubhouse foyer on Monday, June 27, and Wednesday, June 29, from 9 to 11 a.m., or you may contact one of the following individuals:
Mike Welton: 817-797-3631, [email protected]
Jeff Miller: 903-814-7355, [email protected]
Lynda Sides: 806-225-7007, [email protected]
If not sold out, tickets will be sold at the door as well!