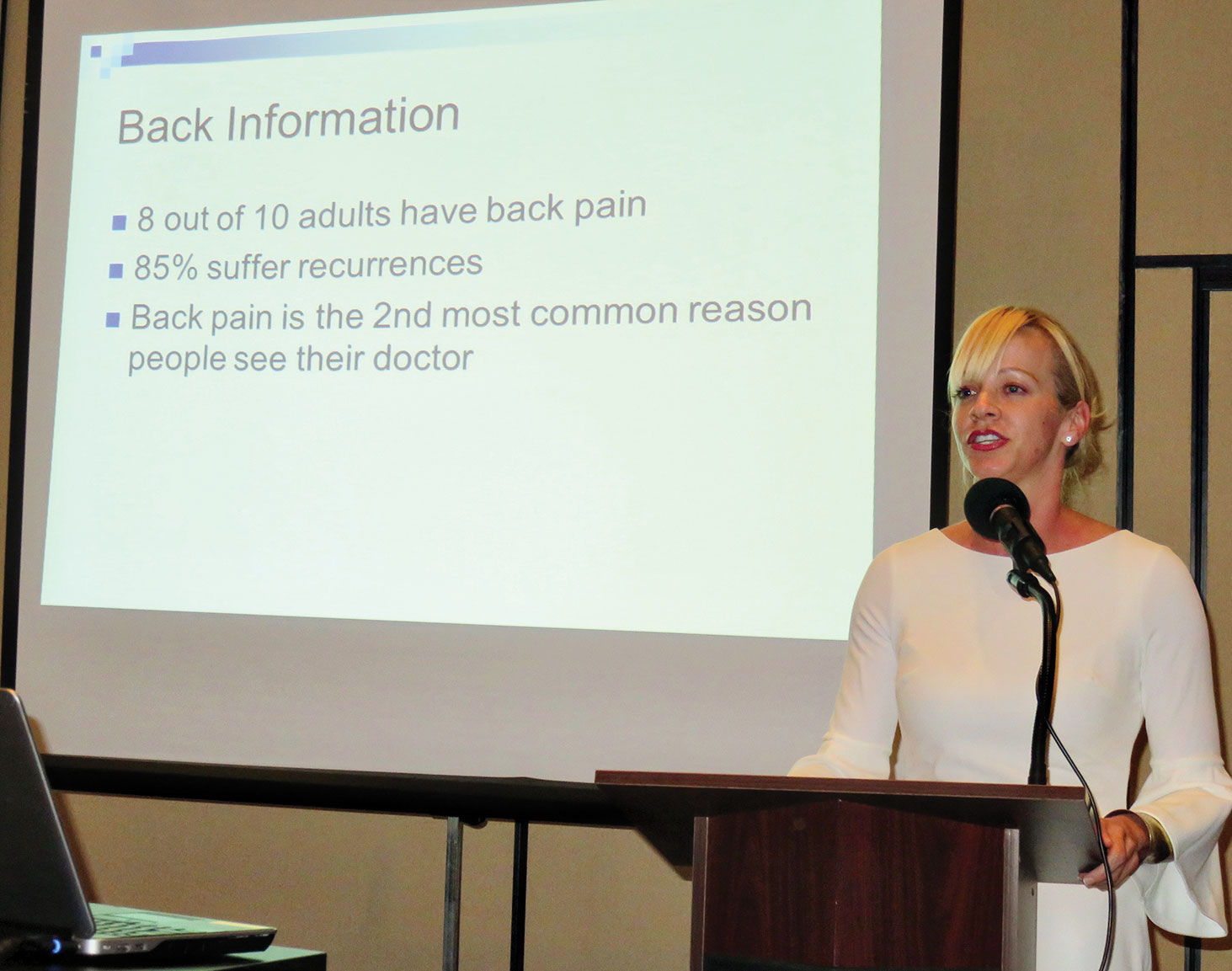 Elaine Kushmaul
On February 7 Living Well at Robson Ranch started its series of Health Seminars for 2018. The subject was pain management of the back and neck through non-surgical treatments. Over 60 residents filled the room to hear Dr. Jennifer Zahn lecture.
Dr. Zahn has a broad background of study and practice including a Master of Public Health from Tulane University, an MD from Louisiana State University, and a Residency in Physical Medicine and Rehabilitation at University of Texas Southwestern Medical Center. Since 2009 she has been associated with Texas Health Presbyterian Hospital Denton and in private practice with North Texas Neck and Back.
To start the program, Dr. Zahn shared a PowerPoint presentation with many pictures of the spine which provided a clear understanding of the types of injuries that can occur. Problems with the spine from the neck on down can be caused by accidents but also can develop over time with aging and the activities of normal life. Strengthening one's core is the best preventative action to be taken.
Topics covered included red flags that indicate the need for medical treatment, as opposed to when to take a mild pain killer and "work through it" or "wait it out."
When seeing a doctor, describing different types of pain, such as "Does it radiate?" and "Where in the body is the pain?" can help with diagnosis. Diagnostic problems can be mechanical back pain or facet arthropathy of the spinal joints which is an arthritic condition. Spinal stenosis and bulging discs are other possible problems. An accurate diagnosis is important to lead to the correct care whether surgical or non-surgical.
Non-surgical treatments range from conservative treatments such as physical therapy and oral meds advancing to injectable medicines. An even higher level of treatment is radiofrequency ablation. Radiofrequency ablation is a therapy that uses a probe and radio waves to create an electrical current delivering heat to targeted nerve tissues to relieve pain.
Dr. Zahn explained that even after having surgery there is treatment for "failed back surgery." So, a patient shouldn't feel that there is no option to living with pain, if surgery doesn't bring the needed relief. After her planned comments, Dr. Zahn gave us 40 minutes of her time for a lively Q and A, which was much appreciated by both her many former patients in attendance and those hearing her for the first time.
DATCU Credit Union provided refreshments and door prizes. Living Well seminars are free and open to Robson Ranch residents. Advanced registration at www.rrlwc.com is required to ensure sufficient seating and refreshments. If seating is full, walk-ins may be turned away. For more information please view the website www.rrlwc.com.
All content within presentations sponsored by the Living Well at Robson Ranch Committee is intended for general information only. It should not be treated as a substitute for the medical advice of a professional health care provider. Neither the Living Well at Robson Ranch Committee, Robson Ranch Denton HOA, nor Robson Communities is responsible or liable for the content and do not endorse any commercial product or service mentioned or advised in any presentation.