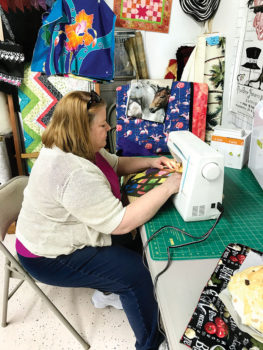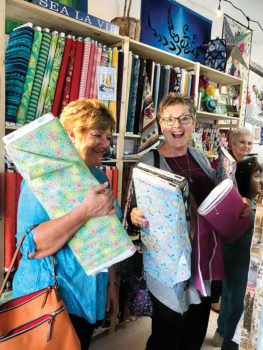 Sandi Price
Members of the Material Girls club aren't always working on charity projects. Sometimes we just want to have fun, so we take the fifth Thursday of a given month for field trips to Texas Quilt shops.
This month our fifth Thursday ended up on Friday with 23 of us taking a trip to Quilt Republic Quilt Store in Pottsboro. The owner, Gerri Campbell, rolled out the red carpet for us and even served a wonderful pie from Mom's Cafe next door. Gerri's store was small but absolutely packed with a wide variety of fabrics from batiks to Australian cloth and everything in between. Her walls were lined with so many quilted samples it gave us a lot more ideas. You would think we all have more fabric than we could ever use, but that didn't stop us from leaving the shop loaded down with more.
At our last meeting, we voted to purchase a felting machine and Gerri had one in the store that she personally owned. She invited all of us to try it out and we lost no time in sitting down at the machine. Our new machine will arrive in time for our next week's meeting.
From Quilt Republic we moved to Mom's for a great lunch. An old-fashioned cafe, Mom's makes everything from scratch and if it weren't for the hour and fifteen-minute drive, a lot of us would be up there for the pies every week.
Then it was on to Whitesboro to the Kaleidoscope Quilt Store. It was a bigger shop with a surprise yarn store next door so more packages went out the door to be stuffed in various trunks. As we traveled back to Robson you could hear "I found this great…Wow! They even had…"I have been looking for this…"