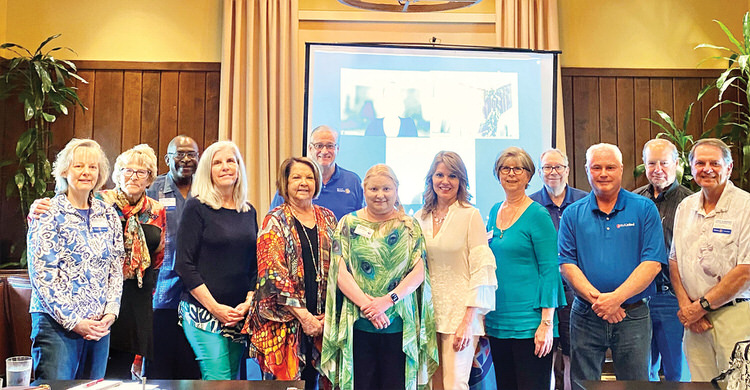 Thank you to everyone who stopped by the Pilot Knob Rotary Club booth at the Home and Garden show on March 26. Visitors to our booth were invited to sign up for a complimentary lunch when they attend one of our Friday meetings at the Wildhorse Grill Boardroom. Michelle Boerst, master beekeeper, owner of Bursting Bees, and a bee rehoming specialist, brought her "traveling" bees to show what goes on inside a beehive. Our theme was all about bees, and the winner of our bee-utiful basket of themed food and products was Marie Hickson. Congratulations, Marie!
Our member Dr. Kim Williams hosted us for lunch at The Club at Gateway Center on the UNT campus. Kim is the chair of UNT's College of Hospitality and Tourism Management. The students in the Hospitality program learn everything from food services to restaurant and hotel management. If you haven't eaten at "The Club," Pilot Knob Rotarians give it five stars! Learn more about UNT's Hospitality program at cmht.unt.edu/club.
To wrap up April, Pilot Knob Rotary Club was visited by our District Governor Kayla Christenson. DG Kayla spoke about the importance of the service we do as a club and the way we serve as individuals in our daily lives. "Rotary is more than a club," she said, "it's a movement." She closed our meeting with a powerful message from Rotary International President Shekhar Mehta who said, "Service is the rent I pay for the space I occupy on this earth, and I want to be a good tenant of this earth."
Pilot Knob Rotary Club meets every Friday at 11:45 a.m., in the Boardroom of the Wildhorse Grill at Robson Ranch. If you are interested in learning more about Rotary, please contact Karen McDaniels at [email protected] or 512-577-6149.