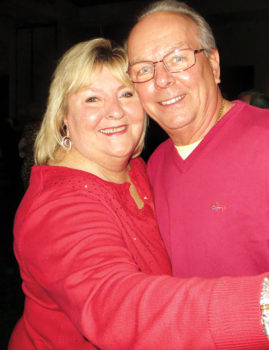 Vicki Baker
Let your heart beat in dance time. Couples, singles, friends and neighbors come join the fun, laughter and good times at the Dance Club's "Rockin' Romance" Dance Party set for Friday, February 9, 2018. Dance the night away to the musical magic of Flashback Entertainment or just sit back and enjoy the music.
So mark your calendars for the first dance of the year! Ticket sales start January 29 on Monday, Wednesday and Friday from 9:00 a.m. to 11:00 a.m. in the Clubhouse. Buy just one ticket for yourself or reserve a table for 10. No minimum purchase is tickets required.
Date: Friday, February 9, 2018
Time: 6:30 p.m. – bar opens; 7:00-10:00 p.m. – dancing to live music from Flashback Entertainment
Place: Clubhouse Ballroom
Cost: Dance (includes one drink) $10/member; $15/non-member
Annual club membership – $5/per person
Cash bar – beer, wine, mixed drinks and soft drinks
Note: Ticket sales limited to one table (10 tickets) per person.