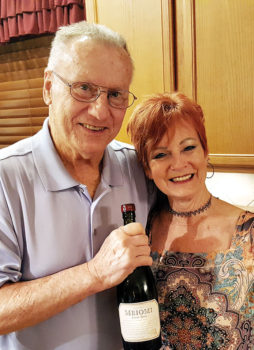 Randy Johnston
The November Wine Knots get-together was hosted by Rich and Sharon Heidebrecht and was a celebration of great wine and comfort food. The group started the evening with great hors d'oeuvres of cheese queso, jalapeno cheese dip with homegrown jalapenos from the Zumann garden and a cheese ball.
Rich and Sharon presented a Meriomi Pinot Noir 2016 and a Kim Crawford Sauvignon Blanc Marlborough 2016. The Meriomi had a rich garnet color with a ruby edge opening up to fruit aromas of bright strawberry, jammy fruit with tasty oak notes. The group found this to be an excellent wine. The second wine was the Kim Crawford and had citrus and tropical fruits backed by herbaceous notes with a juicy acidity and fruit sweetness. This wine was very light and comments from some of the red wine drinkers was that they "would actually buy it."
The evening ended with a baked potato bar including homemade chili and all the other toppings to make a great comfort meal topped off with two great deserts of honey cake and apple crisp with Blue Bell ice cream.
What a way to celebrate late fall even though it was 70 degrees.