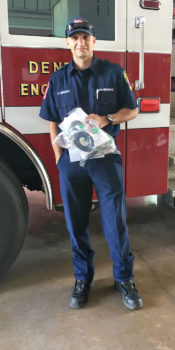 Dorothy Pointer
The Robson Ranch Singles Club was contacted by the Robson Ranch Happy Tails Dog Club to see if we would help sponsor purchasing oxygen masks for pets. Their club had raised half of the cost for one set. The Singles Club voted and sponsored buying another full set plus a half set with the Happy Tails Club from the Dog Scouts of America, Troop 119.
Dorothy Pointer, vice-president of RR Singles Club, picked up the sets and presented them to Fire Fighter Driver Alex Orozco of the Denton Fire Department on FM 2449 that serves Robson Ranch.
Battalion Chief Tim Ryan stated that they have one set that is kept on the Fire Chief's vehicle. Chief Ryan thanked all who contributed and was very appreciative. He stated that it will be a great benefit to better serve our community.