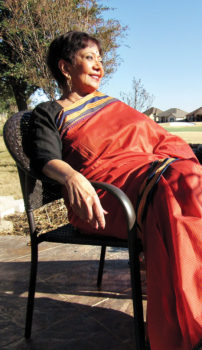 Marie-Christine Koop
Rupa Mathur was born in Khairpur, Sindh, which was part of India prior to 1947. In 1948 she and her family left Sindh, which had become part of Pakistan, following looting and killings that took place in Karachi. The Moslems took their home and all their belongings, and the family fled to India as refugees, homeless with no money. Her father, a civil engineer, found a job there and then moved the family to Aden. Rupa went back to India for higher education and lived in England, Africa, Australia and Thailand before immigrating to the U.S. with her husband in 1980.
Rupa is very talented. She speaks English and Hindi fluently, a few other Indian languages, as well as some Arabic, French and Thai. From India she learned the values of duty, respect of elders and hospitality. Her mother, a courageous woman who protected her children during the riots in India, was the most influential person in her life, teaching Rupa the principles of honesty, truth and the value of education while her father instilled in her the importance of hard work, sincerity and perseverance.
Rupa holds a Bachelor's Degree in Psychology, an LL.B. Degree in Law from Bombay University, and CPCU (Chartered Property, Casualty) ARM, AAI, CSE, ASC designations from the U.S. She has pursued various professions based upon the opportunities available wherever she lived: secretary, attorney, legal administrative assistant, registrar with the British High Commission, teacher and finally Head of Risk Management, Employee Benefits, Safety/Loss Control departments in the U.S. She has two children, a son in Dallas and a daughter in Corpus Christi. Her elder sister passed away, but she has a brother in Austin and a younger sister who divides her time living in India, Australia and Bali.
Rupa spent 23 years in Houston and two years in Austin until her grandchildren brought her to the Dallas area. Thirteen years ago she moved to Robson Ranch where she finds the people warm and welcoming. Rupa likes to travel (especially safaris in Africa), play bridge and read books. Her favorite dish is kofta curry, her favorite movie Arth and her favorite book Cracking India by Bapsi Sidhwa.
Rupa has been a driving force in the establishment of the International Club. Formed in 2006 it was first called International Women's Club. A few ladies met once a month, and Rupa thought that an International Club could promote cross-cultural ties, offer a platform to share experiences, and provide support to members. She discussed this idea with Anna-Lisa Anderson, and the first meeting included six ladies who are still living at Robson Ranch: Rupa, Anna-Lisa Anderson, Annelise Guyer, Margaretha Kortschak, Farida Saleh and Eileen Whittaker. The group eventually included men and was renamed RR International Club. Rupa was its first president and Margaretha Kortschak the second. The club has grown, and Rupa currently serves as vice-president, writing articles on our activities. For club information contact  [email protected]