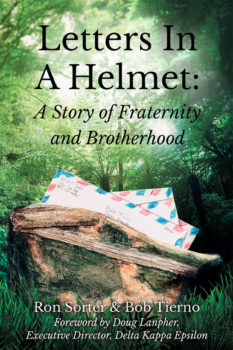 Ron Sorter and Bob Tierno (Robson Ranch Author)
Following the success of my first book, The Prostate Chronicles – A Medical Memoir, I was motivated to have another go at writing something meaningful about my life. In May, 2019, my lifelong friend Ron Sorter and I decided to author a book that had its genesis over five decades ago.
We are Delta Kappa Epsilon Fraternity Brothers (Deke) at the University of Oklahoma and our story is a sweeping tale of our lives covering five decades of friendship and brotherhood. Our story is an interlocking bond, which takes the reader across a transformative landscape of military service, career transitions, marriages, war wounds, battles with prostate cancer, and bereavement.
In 1970, I received a photograph of a letter from Ron that was in a helmet with other mail from his troops in the jungles of South Vietnam. That image has bonded us for life. When the love of Ron's life, Michelle, passed away earlier this year we once again renewed our relationship and decided that this book had to be written.
Think about when you are young and all the things you don't know that you don't know. You try stuff out, without the safety net of parents, like the student services store we founded at Oklahoma University, to help our fellow students have affordable options close to campus. Some of these "antics" might be considered immature, but they are replaced later by the wisdom of living fully and loving and experimenting on the much larger canvas of adult life.
Fraternity life in the late sixties and early seventies did not have social media. There was no internet, email, cell phones, or texting. Marijuana emerged as an alternative to alcohol, which was prevalent; now it's everywhere.
If you think about that era of the 1960s and 1970s, this country was deeply divided about the War in Vietnam. Many served honorably and with valor, each in their own way, while others made personal statements with their activism. This book covers many of the stories of those who served in active duty and in the reserves, including testimonial interviews with close to twenty of our DKE fraternity brothers. That war made us who we are today.
In this book, Ron and I each get to tell our own side of our personal histories, but the intersections are many and the story comes together in an inspiring chronicle of American life spanning the 20th and 21st centuries with the enduring mantra, "From the heart, friends forever."
The book is available at Amazon.com in paperback and Kindle E-Book.
Letters in a Helmet will debut at Robson Ranch on Wednesday, Oct. 16, in the Heritage Room at 2:15 p.m. with a discussion and book signing. Letters in a Helmet will be for sale at this event.
Please RSVP to Bob Tierno, [email protected]