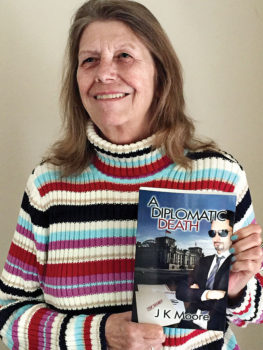 Jackie Moore
Have you experienced something unusual? Suffered a trauma? Write about it in a memoir, non-fiction book or fiction book using yourself as a model for the main character so others can learn from your experience!
Have you worked as an attorney? A teacher? A police officer? Been in the military? Then you have intimate knowledge of the inner workings of these areas to make your book and the main character realistic. Using your personal experience to write lends authenticity to your work and lets people identify with that experience in a unique way.
My many years of experience working for the State Department Diplomatic Corps in embassies/consulates all over the world lends authenticity to my novel and informs the readers of embassy responsibilities, staffing, and other things few people know.
My novel, A Diplomatic Death by J.K. Moore, is based on a character named Jason Fox, Regional Security Officer at the American Consulate General in Frankfurt, Germany. One night, Jason is summoned to the scene of a dead Consulate employee and Jason must work with the German police to investigate the case. When circumstances point to an American's possible involvement, Jason enlists the help of newly-arrived Consular Officer, Amber Lockwood, to see if there is any connection to anyone in the consulate. When suspicious visa applications surface and Jason is warned that classified documents may be missing, he tries to resolve the issues before an upcoming vice-presidential visit with accompanying Secret Service agents. When another consulate employee dies in a suspicious manner, Jason races against time to find who is responsible, German or American.
My book is now available on Amazon Kindle in ebook or paperback versions. Also, I have a few paperbacks available for sale. Just give me a call at 940-262-1701.