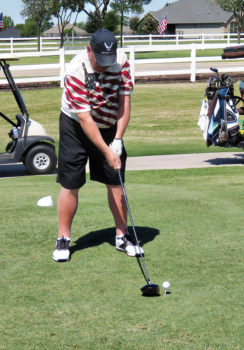 Tom Zumann
Saturday at the Colonial
On May 26 experience a fun filled day watching the Fort Worth Invitational at the historic Colonial Country Club in Fort Worth. At 70 years, this event is the longest running non-major PGA Tour event held at the same site!
Departing from the Robson Ranch Clubhouse at 10:00 a.m., enjoy the comfortable and stylish ride with your Road Runner friends. Ice coolers will be available for your BYOB ride. Please note, alcohol and glass cups/bottles are not allowed to be taken into the event. Departure time from the event will be 6:00 p.m., with an estimated Robson Ranch return of 7:00 p.m.
The tour price includes your admission to the Champions Club, an 18,000 square foot, air-conditioned venue with food and drinks available for purchase. The Champions Club is located next to the 9th and 10th holes, practice putting greens, the Colonial Grill, and Colonial Main Street. It is a great place to watch your favorite PGA player and also enjoy golf on the big screen in a lively atmosphere.
Price is $179/person. Activity level is a two. The sign-up deadline is April 26, 2018.
Parlay at Paragon
Golfer? Gambler? A little of both? This one's for you! Enjoy a dazzling two-night stay at the luxurious Paragon Casino Resort in Marksville, Louisiana.
Tour price includes $30 free play at the Casino, $10 meal voucher, up to 30 percent off at the Spa la Vie and Salon, and dinner at the Legends Steakhouse. Greens Fees are $12 and include a $10 meal! Receive dining or free play credit by taking advantage of the "Senior Thursdays" promotion.
On the way to Paragon, we'll take a lunch break in historic Marshall, Texas known as the "Athens of Texas". Traveling back to Robson Ranch, we'll have the opportunity to lunch and shop in Nacogdoches, Texas.
This trip will be on June 13-15, 2018. Price is $299/person double occupancy. The activity level is a one. Sign-up deadline is May 9, 2018.
Just a reminder, for trips like these and many others, you must be a Road Runners member. Visit our website at www.rrrrclub.com.