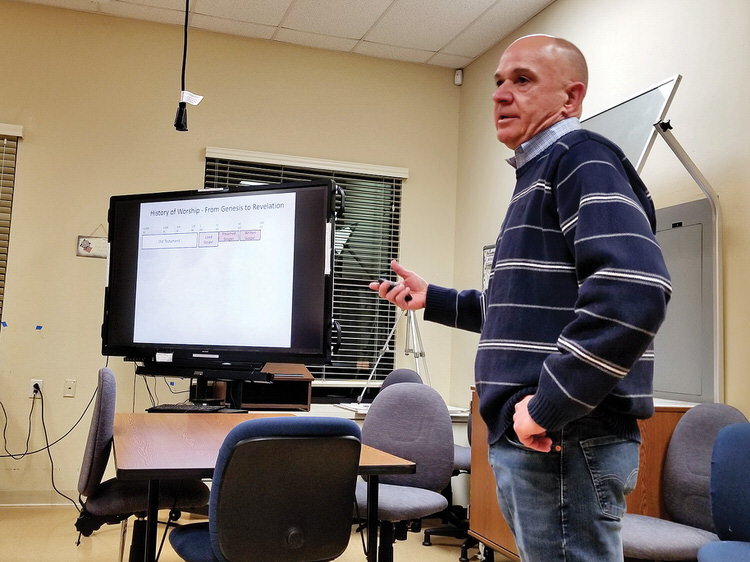 The Robson Ranch Catholic Club met on Tuesday, March 8, at 7 p.m., in the Bluebonnet Room of the CATC. The meeting was opened with the Lord's Prayer followed by announcements. The announcements were few but important. The most important announcement was that the club needs a new president for the 2022-23 season. All were asked to prayerfully consider taking this leadership role, which has been filled for the past several years by Irene Manning, with style and grace. Everyone was also asked to mark their calendars if they had not yet done so for our May 23 end-of-season dinner to be held at the Wildhorse Grill. The details of the dinner will be sent to all members as soon as they are finalized; however, you need not be a member to attend, and all are welcome.
Our speaker for the evening was Dennis Pettit. Dennis has been a parishioner at St. Mark since 1996, and is an active member of the Knights of Columbus and ACTS community. Dennis completed the University of Dallas Advanced Biblical Studies program in 2009. He has led several parish missions at St. Mark on the Eucharist, the Mass, Catholic Morality, and the Wedding Feast at Cana. Dennis gave the Catholic Club a very thorough and thought-provoking account of the History of Worship – Old Testament Typology, beginning at 4000 BC and ending at 397 AD. All present went on a journey through the Old Testament, then through Christ's Ministry, the Last Supper, and the Early Church. After the presentation, many members asked Dennis questions, and this led to another wonderful learning experience for everyone.
The April presentation will be conducted by Dr. Kim Robinson, a licensed and registered psychologist. Dr. Robinson will be speaking about abuse and trafficking. All residents and friends are welcome to attend.