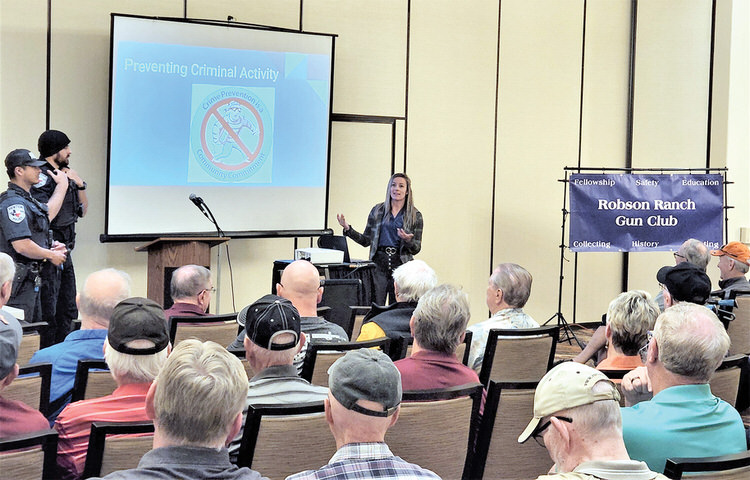 Mike Moss
This month your Robson Ranch Gun Club hosted members of the Denton City Police Department for a conversation with Ranch residents about crime and crime prevention. DCPD Officers Gina Whitson, Louis Martinez, and TJ Maloney spoke with over 75 attendees.
Good news first: Officer Whitson, who had just obtained the updated Robson Ranch-specific data the day prior, almost laughingly observed how low-crime our neighborhood is! In fact, of the 11 categories DCPD tabulates, for seven of those categories, Robson Ranch had only one report to the police since the beginning of the year. The officers noted that for a community of 2,500 homes and over 4,000 residents, these figures were fantastic. Sorta-good news: The most frequent police response to Robson is for alarm system false alarms! Officer Whitson reminded us to make sure you know how to turn your alarm off (easy to forget, since it is not uncommon for an alarm to not trigger for a year or more) and be sure to know the "passcode" or "secret word" that the alarm company will need in order to cancel the alarm (also easy to forget, given how infrequently we use that).
Bad news: one of the two most-frequently reported crimes in our community is fraud, with multiple cases reported every month. These days, fraud is overwhelmingly phone- or Internet-based, and our Officers shared the PD's top recommendations for avoiding getting scammed: Monitor your credit report, get on the "Do Not Call" registry, destroy paper documents with identifying information (such as bank statements), do not share identification information over the phone, do not carry around your Social Security card. Officer Maloney specifically noted that no official government organization will ask for identification information by phone. Both the officers and the audience noted that the IRS, specifically, will never call you. Officer Whitson also noted that no law enforcement organization will accept "gift cards" as payment for any fines, nor use online payment systems such Venmo or Zelle to receive payments. Her advice: If anyone asking you for money online claims to be "official" and is asking for an online money transfer or gift card, hang up!
The mission of our Robson Ranch Gun Club is to provide an opportunity and forum for our members to meet, share interest in firearms, participate in various forms of shooting sports, and provide a learning environment for all skill levels of firearm ownership and uses. A club meeting is held on the second Tuesday of the month at the clubhouse. We are always looking for other Robson Ranch residents interested in joining in our great fellowship and learning about these fun and active shooting sports and skill practice opportunities. Safety is always our primary concern and is a shared responsibility of each member.
For more information, please contact Gun Club Vice President Mike Moss at [email protected]