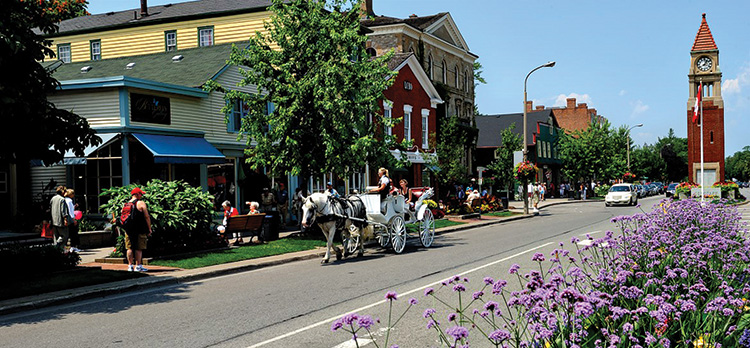 Everyone is invited to the Special Travel Presentation, hosted by the Robson Ranch Road Runners Travel Club and Premier Tours Global, Tuesday, March 31, 6:30 p.m. to 7:30 p.m. in the Clubhouse. A Spotlight Presentation will feature the trips: Niagara on the Lake, Aug. 9–14, 2020, and Fandangle, June 26–27, 2020. While there, learn more about the scheduled 2020–2021 trips!
The Niagara on the Lake land tour is an exclusively created travel experience, specifically designed for the Robson Ranch Road Runners members. This will be a luxurious "waterfalls and wine" focused adventure complete with exceptional cuisine and winery tours complimented with additional unique excursions and highlights.
Begin with an exclusive dinner and view of the nightly illumination of Niagara Falls. Spend a day with Vintage Wine Country Tours, visiting Wayne Gretzky Estate Distillery, as well as a brewery, cidery, and winery! A casual wood-fired pizza lunch, paired with wine, rounds out the day.
In St. Catherines, enjoy a private wine sampling experience while exploring the expansive grounds on your private sculpture garden tour before a unique tastings experience at the 13th Street Winery.
Next, a Voyage of the Falls boat tour brings you breath-taking waterfall views before afternoon visits to the Niagara-on-the-Lake wineries!
Leisure time in Niagara-on-the-Lake is the perfect opportunity to see the town or enjoy High Tea, perhaps a carriage ride, or book a tee time at the Niagara-on-the-Lake Golf Club, the oldest course in North America.
Cost is + $2,750/pp; Activity Level: Moderate; Premier Tours Global 888-407-2772.
The Fandangle featured two-day trip is June 26–27, 2020. Fandangle is a "one-of-a-kind" production that celebrates the pride and pageantry of the Old West through Texas' oldest outdoor musical.
Kick off the tour in a crazy way with the mineral waters of Mineral Wells, TX. This magical water has been making folks feel good, inside and out, since 1881. You'll get to sample the mineral rich Crazy Water before you continue to Abilene. Once there, you will have a chance to tour Frontier Texas, a western heritage center complete with an opportunity to experience life in the Old West.
The evening activities include a group dinner at The Beehive restaurant, which has earned the reputation as one of the best steakhouses in Texas! After dinner, experience the pageantry of the Fort Griffin Fandangle 2020! Experience the life of the cowboys, the Indians, and the settlers in this spectacular production under the Texas stars! The tour continues in Albany, TX and Decatur, TX before heading home. This is a great way to get to know Texas while having fun on this two-day adventure!
Cost is $415/pp; Activity Level: Moderate; Premier Tours Global 888-407-2772.